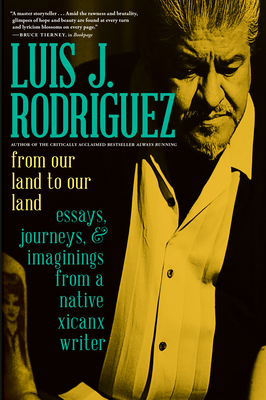 From Our Land to Our Land (Paperback)
Imaginings and Musings of a Native Xicanx Writer
Seven Stories Press, 9781609809720, 224pp.
Publication Date: January 14, 2020
* Individual store prices may vary.
Description
Luis J. Rodriguez writes about race, culture, identity, and belonging and what these all mean and should mean (but often fail to) in the volatile climate of our nation. Rodriguez has a distinctly inspiring passion and wisdom in his approach. Ultimately, the book carries the message that we must come together if we are to move forward. As he reminds us in the first essay, "The End of Belonging," "I'm writing as a Native person. I'm writing as a poet. I'm writing as a revolutionary working class organizer and thinker who has traversed life journeys from which incredible experiences, missteps, plights, and victories have marked the way. . . . I belong anywhere." The pieces in From Our Land to Our Land capture that same fantastic energy and wisdom and will spark conversation and inspiration.
About the Author
From 2014 to 2016 Luis J. Rodriguez served as the official Poet Laureate of Los Angeles. He's the author of fifteen works of fiction, nonfiction, memoir, poetry, and children's literature. His most recent memoir, It Calls You Back, was a finalist for the National Book Critics Circle Award. He's been the recipient of many awards and fellowships, including the Lila Wallace-Reader's Digest Writers Award, Lannan Foundation Poetry Fellowship, Carl Sandburg Book Award, PEN Josephine Miles Literary Award, and more. A script consultant for the FX drama Snowfall, he founded Barking Rooster Entertainment, a production company for film, TV, web, and other content. He founded the well-respected Tia Chucha Press close to thirty years ago, which publishes mostly poetry collections, and is co-founder of Tia Chucha's Cultural Center & Bookstore in LA's San Fernando Valley. In addition to traveling extensively, he teaches every week at two maximum-security yards at Lancaster State Prison.
www.luisjrodriguez.com.
Praise For From Our Land to Our Land: Imaginings and Musings of a Native Xicanx Writer…
"Luis Rodríguez is a poet prophet for our times."  —Sandra Cisneros, author of A House of My Own: Stories From My Life


"Former Los Angeles Poet Laureate, Luis J. Rodriguez reflects on a lifetime of experiences, wisdom and healing, illuminating the intersections of the personal, spiritual, and historical. His is the 'story of the 'other' Los Angeles,' a love song to the city, Xicanx culture, its influence around the world, and the spirit of revolution full of risk, but also one full of triumph. He says 'this is not about avoiding trouble, it's about getting into the right kind of trouble.' A poet at heart, Rodriguez rightly claims that 'as long as the world needs changing, we'll need poetry.' There is still much left to change and the captivating work contained here is a testament to the possibilities of our will to make a difference." —Marcelo Hernandez Castillo, author of Children of the Land


"In a climate fraught with division and increased in-fighting amidst the tension, From Our Land
to Our Land is a welcome and generous call to recognize the myriad gifts peoples across the
world have contributed to our present and celebrate that which we share in order to imagine
where we as a society go from here. Tracing connections between language, cultures, and how one chooses to identify, whether Native or non-Native, to current social, environmental, and political concerns, Luis J. Rodriguez reminds us there are healers still at work in this world, and yes, poets walk among them." —Abigail Chabitnoy, author of How to Dress a Fish