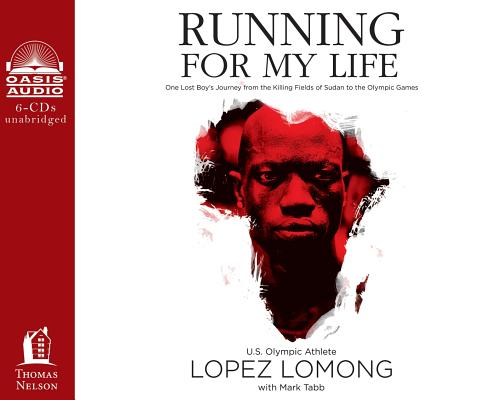 Running for My Life: One Lost Boy's Journey from the Killing Fields of Sudan to the Olympic Games (Compact Disc)
One Lost Boy's Journey from the Killing Fields of Sudan to the Olympic Games
Oasis Audio, 9781609815486
Publication Date: July 1, 2012
* Individual store prices may vary.
or
Not Currently Available for Direct Purchase
Description
A Christian church service is raided by a squad of armed soldiers. The parishioners are forced to lie down on the ground while soldiers forcibly take children from their mothers' arms. It is 1991 in war-torn southern Sudan. The young prisoners endure weeks of harsh captivity and are given one option--become a child soldier--to survive the one-room prison where scores of young boys slept, lived, and died from dysentery. One night, however, a small band of the children flees. After three days of running with no provisions, they cross the Kenyan border and are taken to a crowded refugee camp where the battle to survive will only intensify. So begins the incredible race of Lopez Lomong, whose journey from Sudanese civil war casualty to US flag-bearer at the 2008 Olympic Games is as engrossing as it is inspiring. "Running for My Life" is Lomong's story in his own words. As detailed and gripping as any novel, the most shocking thing about "Running for My Life" may be that the story it tells is true. Naturalized as an American citizen in 2007, racing at the Beijing Olympics a year later, and striving for big dreams as a runner and philanthropist, Lomong's new life is a far cry from that of the hungry, illiterate orphan who spent ten years scribbling school lessons with his finger in the Kenyan dirt. Lomong's unshakable commitment to keep moving forward and find God in each step will inspire anyone to race toward what seems out of reach.
About the Author
Lopez Lomong was born in 1985 in Kimotong, Sudan. He was naturalized as an American citizen in 2007, and graduated from Northern Arizona University in 2011. He continues to train for the Olympic games and spends the rest of his time doing work through the Lopez Lomong Foundation, improving the lives of other innocent casualties of the Sudanese Civil War.
Advertisement