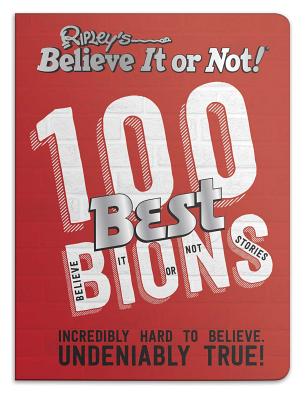 Ripley's Believe It or Not! 100 Best Bions (Paperback)
Ripley Publishing, 9781609912192, 224pp.
Publication Date: April 9, 2019
Other Editions of This Title:
Hardcover (8/27/2019)
Hardcover (4/7/2020)
Hardcover (8/28/2018)
Hardcover (11/13/2018)
Hardcover (8/29/2017)
Board book (6/4/2019)
Board book (6/4/2019)
Hardcover (9/6/2016)
Hardcover (9/8/2015)
Board book (5/1/2018)
Hardcover (3/6/2018)
Hardcover (3/7/2017)
Hardcover (2/16/2016)
Board book (5/1/2018)
Board book (3/7/2017)
* Individual store prices may vary.
Description
Sit back, relax, and enjoy 100 of the best unbelievable stories we've covered in our 100 year history! With expanded stories and amazing photos, this is a must-have for every Ripley's fan!

Celebrate 100 years of Ripley's Believe It or Not! with 100 of our best stories! Rediscover everything, from amazing people like famous half-man John Eck to unbelievable animals like Mike the headless chicken and absolutely incredible stories like the jockey who died while finishing first in a horse race and more. With spectacular photos and in-depth stories, everyone will find something old and something new to believe...or not!
About the Author
Ripley's Believe It or Not! is globally renowned as the authority on the weird, the eccentric, and the amazing. Ripley's Believe It or Not! provides entertaining books for children of all ages which educates and informs them in a humorous style. The Ripley brand is known around the world as a trend-setting source of family-friendly fun and excitement! Every day the researchers at Ripley's are busy digging up the craziest true stories and the most unbelievable facts.