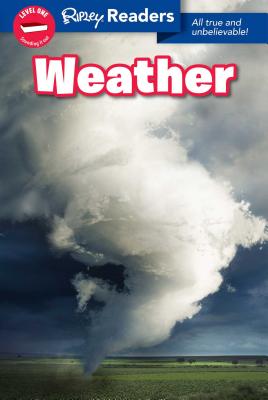 Ripley Readers LEVEL1 Weather (Paperback)
Ripley Publishing, 9781609913236, 32pp.
Publication Date: October 29, 2019
* Individual store prices may vary.
Description
Easy to read, fun to see, and filled with amazing things, kids (even reluctant readers) will love Ripley Readers! With Weather,it's snow wonder kids aren't only learning to read, they're learning striking facts about the weather.

From the editors of Ripley's Believe It or Not! comes Ripley Readers. Designed to help kids build their reading skills and confidence at any level, this program offers a variety of fun, entertaining, and unbelievable topics to interest even the most reluctant readers. With stories and information that will spark their curiosity, each book will motivate them to start and keep reading.

Each title is certified by and includes the Lexile measure, ensuring that the content is appropriate for each level and allowing those just beginning to read, as well as those starting to advance to chapter books, to have just the right reading content.

Level 1 Sounding It Out (Pre-K-Kindergarten)—For kids who know their alphabet and are starting to sound out words.

Level 2 Reading with Help (Pre-K-Grade 1)—For kids that know sight words and are learning to sound out new words.

Level 3 Independent Reading (Grades 1-3)—For kids that are beginning to read on their own.

Level 4 Chapters (Grades 2-4)—For confident readers who enjoy a mixture of images and story.
About the Author
Every day the researchers at Ripley Publishing are busy digging up the craziest true stories and the most unbelievable facts to create entertaining books for children of all ages. Our books educate and inform kids in a fun, humorous style, enticing even the most reluctant readers. Ripley Publishing is a part of Ripley's Believe It or Not!, which is known around the world as a trend-setting source of family-friendly fun and excitement!