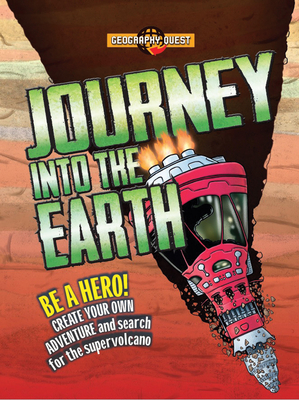 Journey Into the Earth (Paperback)
Be a hero! Create your own adventure and journey to the center of the earth (Geography Quest)
QEB Publishing, 9781609927974, 48pp.
Publication Date: September 1, 2015
* Individual store prices may vary.
Description
Step inside for an earth shattering expedition! An urgent phone call comes in, it's Doctor Ludmila Popplecracker, the famous volcanologist! Drill down to the centre of the Earth to determine whether the supervolcano is about to erurpt. It's a dangerous mission but you're being depended on to collect vital information! Readers must use their problem-solving skills and geographical knowledge to navigate through four thrilling adventures. Geography Quest follows the popular Science and Rubik's Quest series. Questions are carefully chosen to address core geography subjects for the age group. Finding the answers enables readers to advance through the story, learning more about geography with every step they take. Clues are dotted along the way, and wrong turns will direct readers towards the right answer! A glossary explains geographical words and provides added reference material.
About the Author
John Townsend has written many children's books, on a wide variety of subjects, both fiction and non-fiction. John used to be a secondary school teacher and playwright before becoming a full-time writer. He is a Reading Champion for the UK's National Literacy Trust.
Tatio, a self-taught artist from Madrid, left a decade-long career in advertising to follow his passion for illustration in 2000. Since then, he has breathed life into the pages of math, history, science, and literature textbooks with his rich, vivid illustrations. Outside of the studio, you'll most likely find Tatio swaying to jazz, devouring a book, or laughing with his four-year-old son.