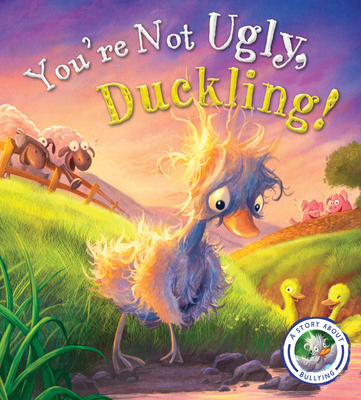 Fairytales Gone Wrong (Hardcover)
You're Not Ugly, Duckling!: A Story about Bullying
QEB Publishing, 9781609929657, 24pp.
Publication Date: July 19, 2016
* Individual store prices may vary.
Description
A fairytale with a twist! In You're Not Ugly, Duckling! Mother Duck is shocked to discover that one of her ducklings looks a little different to the rest.
He's large and grey, with a funny quack and an even funnier hair do! It's not just Mother Duck who has noticed – poor Ugly Duckling is bullied by the other farm animals and his siblings too! Ugly Duckling decides to run away, but when he spots one of the farm animals in danger he rushes to the rescue. Are his actions enough to prove that you should never judge a book by its cover?
About the Author
STEVE SMALLMAN has been illustrating children's books for almost 30 years and writing his own stories for slightly less. He also teaches illustration workshops in schools, including mural-painting. Steve is the author of Smelly Peter the Great Pea Eater (Winner of the Sheffield Children's Book Award 2009) and The Lamb Who Came for Dinner (Shortlisted for the Red House Children's Book Award and read by Meatloaf on CITV's Bookaboo). When he's not working, Steve enjoys films, television, gardening, and walking in the countryside.
Neil Price graduated with an Illustration BA (hons) and now works full-time as a freelance illustrator. Using strong characters, mixed mediums and a charming storytelling technique, Neil's aim is to entertain young readers and transport them into different worlds.