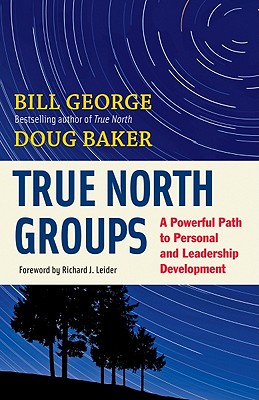 True North Groups
A Powerful Path to Personal and Leadership Development
Paperback

* Individual store prices may vary.
Description
The challenges we face these days are so great that we cannot rely entirely on ourselves, our communities, or our organizations to support us and help us stay on track. We need a small group of people with whom we can have in-depth discussions and share intimately about the most important things in our lives—our happiness and sadness, our hopes and fears, our beliefs and convictions. For the past thirty-five years, Bill George and Doug Baker have found the answer in what they call True North Groups.

"At various times," George and Baker write, "a True North Group will function as a nurturer, a grounding rod, a truth teller, and a mirror. At other times the group functions as a challenger or an inspirer. When people are wracked with self-doubts, it helps build their courage and ability to cope."

Drawing on recent research in psychology and sociology, George and Baker explain why True North Groups are so critical to helping us develop the self-awareness, compassion, emotional intelligence, and authenticity required to be inspired human beings and inspiring leaders. They cover every detail from choosing members, establishing norms, and dealing with conflicts to evaluating progress and deciding when it's time to restructure. True North Groups provides a wealth of practical resources, including suggested topics for the first twelve meetings, advice on facilitating groups, techniques to evaluate group satisfaction, and much more.

For the millions of people who are searching for greater meaning and intimacy in their lives, this book will help them to grow as leaders and as people—and to stay on course to their True North.
Praise For True North Groups: A Powerful Path to Personal and Leadership Development…
"The book builds on Babson's thirty years of pioneering work researching and teaching entrepreneurship. It challenges conventional business education by arguing convincingly that the entrepreneurial mindset is key to success in our incredibly complex world - not just for entrepreneurs but also for managers, whether they operate in businesses, or nonprofit organizations,  in highly-advanced or in emerging economies. It is a must-buy book. "
--Guy Pfeffermann, CEO, Global Business School Network

"In a world overwhelmed with problems, we desperately need more entrepreneurial problem-solvers--whether that's young people starting companies from scratch, or change agents inside big companies launching breakthrough initiatives. This remarkable book showcases the newest thinking from Babson College, one of the world's most-admired centers of entrepreneurial education, about two timeless questions: What makes entrepreneurs special, and what are the most effective ways to teach aspiring entrepreneurs to succeed? The best education doesn't just tell you what you need to know, it changes how you think. This powerful book does just that."
--William C. Taylor cofounder and founding editor, Fast Company and author of
Practically Radical

In The New Entrepreneurial Leader Babson extends its own leadership in management education.  Indeed, this book effectively argues that 21st century management requires entrepreneurial leadership.  In typical Babson fashion it weaves sophisticated scholarship and practical, real-world examples to inform, teach and inspire.
--Larger companies should require this book for every executive.

"Creating an intimate community in an impersonal world helps accomplished and inspiring leaders chart their course and stay on it. In True North Groups, Bill George and Doug Baker share enduring lessons that have guided them in their stellar areas and fulfilling lives."
—Rosabeth Moss Kanter, Ernest L. Arbuckle Professor of Business Administration, Harvard Business School, and author of Confidence and SuperCorp

"The epidemic of social isolation is a grave challenge because research shows close friendships lengthen and enrich our lives and those around us. This book describes an amazing antidote: True North Groups. If you apply its lessons, your life is likely to be changed for the better, and you'll probably live longer. Not many books can promise that!"
—Robert Putnam, Peter and Isabel Malkin Professor of Public Policy, Harvard Kennedy School; coauthor of American Grace; and author of Bowling Alone

"Forming True North Groups is an integral part of the Unilever Leadership Development Programme to prepare our future leaders for an increasingly volatile and uncertain world where the only true differentiation is the quality of leadership of all."
—Paul Polman, CEO, Unilever

"Bill George and Doug Baker have crafted an invaluable guide to finding our inner compass. True North Groups draws a compelling map for self-discovery through telling our stories to a trusted group. When we need authentic leaders more than ever, this book—and the groups it describes—should be part of every leader's development."
—Daniel Goleman, author of Emotional Intelligence

"This book fills a leadership gap across the life span: the essential anchor of the small support group of peers. The lives of Bill George and Doug Baker bespeak a remarkable convergence of personal growth and professional excellence. They bring lifetimes of wisdom to this practical manual on creating and sustaining small groups. It will surely become a staple for equipping the authentic leaders the 21st century demands."
—Krista Tippett, host of On Being, American Public Media

Berrett-Koehler Publishers, 9781609940072, 200pp.
Publication Date: September 5, 2011
About the Author
Bill George is a professor of management practice at Harvard Business School and the former chairman and CEO of Medtronic Inc. He is the author of Authentic Leadership, True North, Finding Your True North, and 7 Lessons for Leading in Crisis.
Doug Baker is president of the True North Groups Institute and former senior vice president for Human Resources of American Express Financial Advisors.