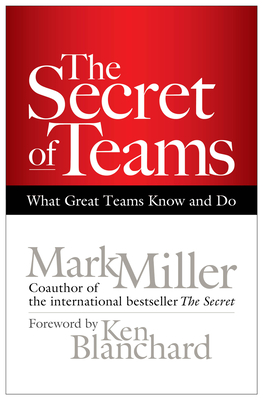 The Secret of Teams
What Great Teams Know and Do
Hardcover

* Individual store prices may vary.
Other Editions of This Title:
Digital Audiobook (11/21/2011)
CD-Audio (11/22/2011)
Paperback, Large Print (1/19/2012)
Description
Teams are critical to the success of every organization. Departmental, interdepartmental, cross-functional, ad hoc, task-specific—teams do everything from planning the office party to setting the annual budget to establishing performance goals.

But what separates the teams that really deliver from the ones that simply spin their wheels? What is the secret of high-performance teams?

As he did in The Secret, Mark Miller uses a compelling business fable to reveal profound yet easily grasped truths that can dramatically transform any organization. Debbie Brewster, the heroine of The Secret, has been promoted and is now struggling with taking her new team to the next level. Her old mentor, Jeff Brown, the company's CEO, sends her out to find the secret of teams. On her journey she learns from three very different teams—the Special Forces, NASCAR, and a local restaurant.

Debbie and her team discover the three elements that all successful teams have in common. But that's just the beginning. The devil is in the details, as the story of Debbie's efforts to actually implement the three elements shows. You'll learn how to change entrenched ways of thinking and acting, what you have to do to optimize each of the three elements of a successful team, how to measure your progress, and more.

Creating high-performance teams does more than just give your organization a competitive advantage. It can be a performance multiplier that significantly improves results while honoring and developing people. It may be the ultimate win-win-win that your organization is seeking.
Praise For The Secret of Teams: What Great Teams Know and Do…
"Let this book inspire you and your team to give your management, shareholders, vendors, partners, and customers more than they expect. Whether you're part of a huge corporation, a not-for-profit organization, or a small company with just a few employees, apply the principles and practices in The Secret of Teams to make your workplace come alive!"
—from the foreword by Ken Blanchard, coauthor of The One Minute Manager® and Leading at a Higher Level

"One parable, well told, is worth a thousand rules. In this parable Mark deftly captures how he and his colleagues at Chick-fil-A have managed to tap into the very essence of what allows teams to become the best version of themselves—great talent, incredible skills, and a tight sense of community. If you are seeking the same for your own team or business, read The Secret of Teams."
—Marcus Buckingham, New York Times bestselling author of First, Break all the Rules and Now, Discover Your Strengths

"No one understands the importance of culture and teamwork more than the folks at Chick-fil-A. They're flat out one of the best companies in the world. Mark Miller shares some of their secrets in this remarkable business fable."
—Patrick Lencioni, President, The Table Group, and author of The Five Dysfunctions of a Team

"Mark Miller's fine book is a must if you want to take your team from good to great. Written in a very simple, clear, and concise manner, The Secret of Teams distills complicated management theory into easily digestible bite-size pieces. I recommend this book for everyone who is leading a team or will soon lead a team."
—General Charles Krulak, 31st Commandant of the US Marine Corps and President, Birmingham-Southern College

"Teamwork is still the ultimate competitive advantage. The Secret of Teams will help you take your team to the next level. When a team is not firing on all cylinders, everyone on the team knows that. How is your team doing? Teams don't fail because they want to fail; they fail because they don't know how to succeed. Let Mark Miller show your team how to succeed."
—Matthew Kelly, New York Times bestselling author of The Dream Manager and Off Balance

"Mark offers unique experience and insight into how teams perform and what it takes to get more out of teaming efforts."
—Jon Katzenbach, Senior Partner, Booz & Company, coauthor of The Wisdom of Teams, and author of Peak Performance

Berrett-Koehler Publishers, 9781609940935, 144pp.
Publication Date: October 3, 2011
About the Author
Mark Miller began his Chick-fil-A career working as an hourly team member and is currently vice president of training and development. In over thirty years with Chick-fil-A, Mark has served capacities including restaurant operations, quality and customer satisfaction, and corporate communications. He has also traveled extensively, teaching around the world on a variety of topics. He is the coauthor, with Ken Blanchard, of the international bestseller The Secret.