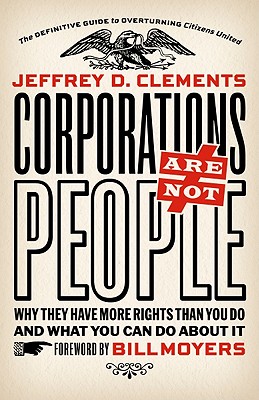 Corporations Are Not People: Why They Have More Rights Than You Do and What You Can Do about It (Paperback)
Why They Have More Rights Than You Do and What You Can Do about It
Berrett-Koehler Publishers, 9781609941055, 218pp.
Publication Date: January 9, 2012
* Individual store prices may vary.
or
Not Currently Available for Direct Purchase
Description
This is the first practical guide for every citizen on the problem of corporate personhood and the tools we have to overturn it. Jeff Clements explains why the Citizen's United case is the final win in a campaign for corporate domination of the state that began in the 1970s under Richard Nixon. More than this, Clements shows how unfettered corporate rights will impact public health, energy policy, the environment, and the justice system. Where Thom Hartmann's Unequal Protection provides a much-needed detailed legal history of corporate personhood, Corporations Are Not People answers the reader's question: "What does Citizens United mean to me?" And, even more important, it provides a solution: a Constitutional amendment, included in the book, which would reverse Citizens United. The book's ultimate goal is to give every citizen the tools and talking points to overturn corporate personhood state by state, community by community with petitions, house party kits, draft letters, shareholder resolutions, and much more.
About the Author
Jeff Clements is a co-founder and General Counsel of Free Speech for People, a national, nonpartisan campaign to strengthen self-government and democracy in America by reversing Citizens United v. FEC and corporate rights doctrines that unduly leverage corporate economic power into political power. Jeff is also founder of Clements Law Office, LLC, and has represented and advocated for people, businesses and the public interest since 1988.Bill Moyers is an American journalist and public commentator with an extensive involvement with public television, producing documentaries and news journal programs. He has been president of the Schumann Center for Media and Democracy since 1990.
Advertisement