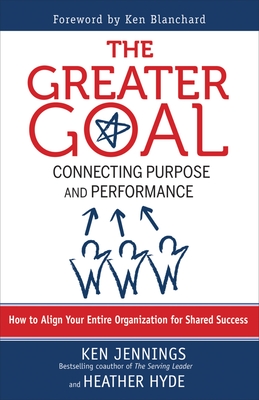 The Greater Goal
Connecting Purpose and Performance
Paperback

* Individual store prices may vary.
Other Editions of This Title:
Paperback, Marathi (2/1/2020)
Description
One of the most powerful forces on Earth is an organization fully aligned, individual by individual, team by team, to achieve mutual success.
In this vivid business story, Ken Jennings and Heather Hyde provide a road map to guide leaders through the process of engaging employees at all levels of the organization to find the deeper meaning and higher purposes of their work. Learning these methods is Alex Beckley, a leader who receives a wake-up call that inspires him to live and lead differently. He discovers how to invite his coworkers to join a cause, not just a company—to commit to a Greater Goal—and lead the process of shared goal achievement.
Alex learns the Star Model, a process encompassing five practices that can help you discover and deliver on your own purpose and passions, in alignment with many others, to accomplish something good and great. Come along on the adventure!
Praise For The Greater Goal: Connecting Purpose and Performance…
"I believe passionately in the principles of The Greater Goal. We are putting them to work for us right now in my organization."
—Janet A. Tobian, MD, PhD, Senior Medical Director and Global Brand Development Leader, Eli Lilly and Company

"My friends Ken and Heather have created a remarkable book that will help you put Servant Leadership to work. Bravo!"
—Dr. Kent M. Keith, CEO, Greenleaf Center for Servant Leadership

"Health care is a cause that most people join for higher reasons than just to make a living. So The Greater Goal, with its fresh and challenging style, will have particular relevance for the health-care sector."
—Dr. Richard Barker, author of 2030: The Future of Medicine

"There is no greater goal than service; Ken and Heather's latest book serves us all. Every aerospace company I know can use it!"
—Dr. Kees Rietsema (USAF Col., Ret.) Chair, Department of Business Administration, Embry-Riddle Aeronautical University Worldwide

"Ken and Heather point the way to connecting life purpose and the achievement of greater goals. The authors' approach can heal the brokenness of our leaders and organizations today."
—Father Bill Brown, Director, St. Joseph's Retreat House

"My professional life has revolved around conveying a compelling story about the greater purpose of organizations. The Greater Goal helps you to do just that—and more."
—Andrea V. Cotter, Senior Vice President and Chief Communications Officer

"The Greater Goal will give leaders at every level practical advice on setting and achieving meaningful goals together."
—Douglas D, Hawthorne, FACHE, CEO, Texas Health Resources

"Principles in The Greater Goal will undoubtedly serve you in both your personal life and professional life. After all is said and done, relationships are what really matter most. I was challenged by Ken and Heather's thoughtful storytelling and the deeper insights that they reveal about how to be a champion in all aspects of life."
—Darrin Gray, Director of Corporate Partnerships, All Pro Dad, and coauthor of The Jersey Effect

"Strategic alignment is crucial to large multihospital systems. The five practices of Greater Goal achievement help us do just that!"
—Paul N. Patton, Vice President, Human Resources, Yale–New Haven Hospital

"I love what Ken and Heather are saying in The Greater Goal. I intend to buy two dozen books and give copies as gifts to friends and clients."
—Hank Higdon, Founding Partner, HigdonBraddockMatthews LLC

"Aligning everyone's actions in executing the Greater Goal isn't as easy as it sounds. Here's the game plan you need to make it happen."
—Lt. Gen. Robert E. Kelley, USAF, Ret.

"How can my work have meaning? My friends Ken and Heather answer that question by taking you on an adventure in pursuit of meaning and achievement. I highly recommend this engaging book."
—Gary W. Moon, PhD, Executive Director, Martin Family Institute and Dallas Willard Center, Westmont College

"The unprecedented complexity in today's marketplace requires leadership that is conspicuous in its pursuit of what matters. The authors have shared the straightforward path toward achieving competitive advantage. Start-ups and multinationals alike will, no doubt, take heed of what this book reveals."
—Deb Lantz, Executive Director, Marketing and Communications, Tepper School of Business, Carnegie Mellon University

"The Greater Goal is aimed right at the heart of this generation of leaders. Ken and Heather show us how to do both good and great things!"
—Ginger Graham, Senior Lecturer, Harvard University, and CEO coach

"The Greater Goal touched me deeply. It will guide you to improving your business results and the quality of your life. I've applied these principles to my company and my personal life with tremendous results in both."
—Michael Holmes, President, Rx Outreach, Inc.

"The tools in The Greater Goal have changed the way we approach our strategy and the way we do our work. I highly recommend the book!"
—Newt Crenshaw, Vice President, Oncology Business Unit, Eli Lilly and Company

"I am a strong believer in the power of being purposeful. I really appreciated the careful thought and wisdom I found in The Greater Goal. It's an insightful and effective framework for the achievement of shared goals."
—Mark M. Ferrara, Vice President, Talent Management, Eli Lilly and Company

Berrett-Koehler Publishers, 9781609942885, 168pp.
Publication Date: January 2, 2012
About the Author
Ken Jennings cofounded ThirdRiver Partners to serve executives and organizations around the world. He has held leadership roles as a global managing partner at Accenture and was a codirector of the Global Leadership in Healthcare Program at the University of Michigan Business School. He is the coauthor of The Serving Leader.
Heather Hyde is the cofounder of ThirdRiver Partners. She draws on experience gained as a strategic and financial advisor and as a consultant in the field of human performance improvement.
or
Not Currently Available for Direct Purchase