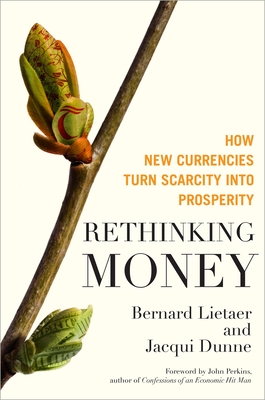 Rethinking Money
How New Currencies Turn Scarcity into Prosperity
Hardcover

* Individual store prices may vary.
Description
As the United States struggles and the economies of Europe stagger, we fail to see a way out of this agonizing cycle of repeated financial meltdowns. In fact, there are thousands of ways to solve not only our recurring fiscal crises but our ongoing social and ecological debacles as well. Solutions are already in place where terrible problems once existed. The changes came about not through increased conventional taxation, enlightened self-interest, or government programs but by people simply rethinking the concept of money. With this restructuring, everything changes.

In this visionary book, Bernard Lietaer and Jacqui Dunne explore the origins of our current monetary system—built on bank debt and scarcity—revealing the surprising and sometimes shocking ways its unconscious limitations give rise to so many serious problems. But there is hope. The authors present stories of ordinary people and their communities using new money, working in cooperation with national currencies, to strengthen local economies, create work, beautify cities, and provide education—and so much more is possible. These real-world examples are just the tip of the iceberg—over 4,000 cooperative currencies are already in existence.

The book provides remedies for challenges faced by governments, businesses, nonprofits, local communities, and even banks. It demystifies a complex and critically important topic and will strike a deep chord with readers eager to find innovative, meaningful solutions that will do far more than restore prosperity—it will provide the framework for an era of sustainable abundance.
Praise For Rethinking Money: How New Currencies Turn Scarcity into Prosperity…
"You have no idea what money is. Read this book and find out how simply changing our money system will lead to a more sustainable and peaceful society."
—Jurriaan Kamp, Editor-in-Chief, The Intelligent Optimist

"Bernard Lietaer and Jacqui Dunne's clear and potent voice tells the story of our distorted and dysfunctional money system and how we can finally free ourselves from it and find our way to the future we yearn for. This stunning book should be required reading for every person who wants a world that works and a sustainable future for all of life."
—Lynne Twist, author of The Soul of Money

"Rethinking Money does a brilliant job of eradicating the concepts and stories that our economists and other professionals in the field hold dear. The authors write that 'money is our last taboo,' but they don't recommend abolishing the fiat zeitgeist. Rather, they wisely call on the various new currencies and other monetary innovations to complement the existing system."
—Nigel Seale, former worldwide Chairman, Earth Day International, and founder of Earth Day Canada

"Rethinking Money is required reading for anyone who is serious about transforming our current unsustainable economic system to one where people and planet can prosper. This is a brilliant analysis of our current monetary system and its pitfalls. More importantly, the authors strategize the way forward with solutions that not only rethink money but revalue human beings, long-term planning, and our planet."
—Georgia Kelly, Executive Director, Praxis Peace Institute

"In the midst of the confusion created by today's crises, there are few people who can provide viable solutions that not only serve our local communities but also address the global economy. Bernard Lietaer and Jacqui Dunne are such a brilliant force for good."
—Mariana Bozesan, PhD, integral investor and author of The Making of a Consciousness Leader in Business

"The mission of business—the mission of civilization—is to further the path of development that began in nature. We must develop a human ecosystem where we use less and have more. The monetary ecosystem proposed in Rethinking Money makes it possible and provides long-awaited solutions to the crises we face such as climate change, worldwide violence, and the chasm between rich and poor. This book is a must-read."
—Tachi Kiuchi, Chairman, E-Square Inc. and Future 500

"The portrait of an emerging world where issues of lack, intolerance, degradation, and war are replaced by sustainable abundance and economic justice for all is balm for the soul. This shift is brought about, in large part, by simply rethinking money."
—Sherry Ruth Anderson, coauthor of The Feminine Face of God

"The authors have expertly revealed new distinctions in the monetary domain but without the usual economic explanations of dry theory and abstraction. This book is for anyone who wonders why the system is failing us and, perhaps more importantly, what to do about it."
—Julio Olalla, founder of Newfield Network and author of From Knowledge to Wisdom

"An instant classic! Lietaer and Dunne explain how and why our monetary system fails to put supply and demand together, subsidizes and promotes intolerable and unnecessary disparities of well-being, entrenches unearned privilege, undermines democracy, creates boom-and-bust cycles, and rewards unsustainable, destructive growth...Without undermining or vilifying all that money presently contributes, they provide a guided tour to an array of actual alternatives like time banking and complementary currencies to create a sustainable, more equitable monetary ecosystem."
—Edgar Cahn, creator of Time Dollars, founder of TimeBanks USA, and cofounder of the National Legal Services Program

"Hallelujah! Finally there's an interesting book for the layperson about what money really is...Rather than just blaming somebody—dumb politicians, greedy corporations, and banksters—Lietaer and Dunne show us the real issue: a system and a technology that are just built on agreements. And they show how we can change them to fit our real needs, live well, and save the planet in the process."
—Paul H. Ray, PhD, coauthor of The Cultural Creatives

"In a time in which money has become a form of madness, this remarkable book offers profound understanding and guidance to the creation of a monetary ecosystem that can build both a better self and a better world. As we're living now in a time of whole system transition, the rethinking of money is possibly one of the most important things we have to do, and at this, the authors succeed brilliantly."
—Jean Houston, PhD, author of Jump Time and A Passion for the Possible

"New currency systems will not solve all the problems generated by physical growth on a finite planet. But we will have zero chance of creating a more satisfactory global future if we do not create new mechanisms for facilitating commerce. Rethinking Money is an incredibly practical and inspiring guide for how we could do that."
—Dennis L. Meadows, coauthor of The Limits to Growth

"Rethinking Money addresses the last of the sacred cows—money. The new understanding this book offers is critical because economics has become the dominant—and increasingly only—discipline with which important decisions are being made. This is a must-read for anyone who wants to be part of the timely conversation on how to move forward to create the just, sustainable, and equitable world we all desire."
—Thom Hartmann, internationally syndicated talk show host and author of twenty-four books

"The most comprehensive and readable revelation of the taboo role of money...Lietaer and Dunne describe the many thousands of innovative currencies in use by communities worldwide and how these currencies are facilitating the needed transition of human societies to more peaceful, sharing, prosperous and sustainable futures."
—Hazel Henderson, President, Ethical Markets Media (USA and Brazil), and author of Ethical Markets, Planetary Citizenship, and Building a Win-Win-World

Berrett-Koehler Publishers, 9781609942960, 288pp.
Publication Date: February 4, 2013
About the Author
Bernard Lietaer has been a leader in the field of money for more than thirty years as a central banker, a fund manager, a university professor, and a consultant. In 1992, BusinessWeek named him "the world's top currency trader." A codesigner of the European Currency Unit—the precursor to the euro—he is currently a research fellow at the Center for Sustainable Resource Development at the University of California, Berkeley.
Jacqui Dunne is an award-winning journalist and founder of Danu Resources, an emerging leader in helping entrepreneurs develop technologies and initiatives that restore the earth. The company is an interface between donors and projects. Danu's unique value is its ability to work from a future reference point that draws out the greatness and builds upon the strengths of all parties, creating a flourishing paradigm shift for a quadruple bottom line: people, planet, profits, and power within.