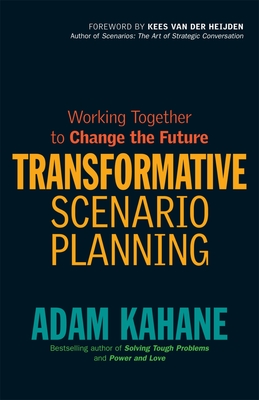 Transformative Scenario Planning
Working Together to Change the Future
Paperback

* Individual store prices may vary.
Description
People who are trying to solve tough economic, social, and environmental problems often find themselves frustratingly stuck. They can't solve their problems in their current context, which is too unstable or unfair or unsustainable. They can't transform this context on their own—it's too complex to be grasped or shifted by any one person or organization or sector. And the people whose cooperation they need don't understand or agree with or trust them or each other.

Transformative scenario planning is a powerful new methodology for dealing with these challenges. It enables us to transform ourselves and our relationships and thereby the systems of which we are a part. At a time when divisions within and among societies are producing so many people to get stuck and to suffer, it offers hope—and a proven approach—for moving forward together.
Praise For Transformative Scenario Planning: Working Together to Change the Future…
"I highly commend this book. Adam has taken scenario planning to a new level, beyond the confines of business strategy, to deal with wider social and economic issues."
—Vince Cable, Secretary of State for Business, United Kingdom

"All of our toughest problems, from climate change to inequality, have complexity at their heart. Adam Kahane, with his track record of work for social and environmental justice, has written a powerful and practical guide to using scenario planning to transform such problems. This is a book for those hungry for new ideas about how to achieve change."
—Phil Bloomer, Director, Campaigns and Policy, Oxfam

"We all face challenges and opportunities that can only be addressed with fresh understandings and innovative forms of collaboration. At Shell we have learned the value of combining scenario thinking with strategic choices. Building on his extensive practical experience, Kahane extends the boundaries of this practice."
—Jeremy Bentham, Vice President, Global Business Environment, Royal Dutch Shell

"This deeply human book offers tangible means for tackling the intractable problems that confront us at every level of life, from domestic and local to national and beyond. It offers realistic, grounded hope of genuine transformation, and its insights and lessons should be part of the toolbox of everyone in leadership roles."
—Thabo Makgoba, Anglican Archbishop of Cape Town

Berrett-Koehler Publishers, 9781609944902, 152pp.
Publication Date: October 15, 2012
About the Author
Adam Kahane had pioneered the development and use of transformative scenario planning throughout the Americas, Europe, the Middle East, Africa, and Australia. He is a partner in the Cambridge, Massachusetts, office of Reos Partners and an associate fellow at the Saïd Business School of the University of Oxford.
or
Not Currently Available for Direct Purchase