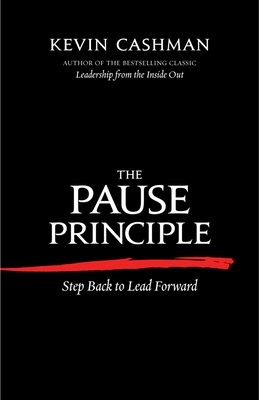 The Pause Principle (Paperback)
Step Back to Lead Forward
Berrett-Koehler Publishers, 9781609945329, 176pp.
Publication Date: October 1, 2012
* Individual store prices may vary.
Description
We live and lead in an increasingly volatile, uncertain, complex, and ambiguous world. But paradoxically, Kevin Cashman contends that leaders today must not merely act more quickly but pause more deeply. He details a catalytic process to guide you to step back in order to lead forward in three critical growth areas: personal leadership, development of others, and fostering of cultures of innovation. You and your organization will learn to move from management speed and transaction to leadership significance and transformation.
About the Author
Kevin Cashman is senior partner, CEO and Executive Development, Korn/Ferry International. He is also the founder of the Chief Executive Institute®, a senior fellow of the Caux Roundtable, a board member of the Center for Ethical Business Cultures, and is the author of the bestselling classic Leadership from the Inside Out. He has been ranked a Top Ten Thought Leader by Executive Excellence magazine.
Praise For The Pause Principle: Step Back to Lead Forward…
"To thrive and to innovate in today's complex, globally connected world, leaders need sophisticated ways to step back to understand what they are facing within and outside themselves. The Pause Principle provides pragmatic resources for making the critical move from management efficiency to leadership excellence."
—Daniel Vasella, MD, Chairman, Novartis

"Kevin Cashman's latest must-read book focuses on the essence of leadership: being consciously reflective before we act. Incorporating Cashman's ideas into your daily practices will transform you as a leader."
—Bill George, author of True North; Professor, Harvard Business School; and former Chairman and CEO, Medtronic

"Here a veteran coach shares his long experience to help busy executives deal with the question, In my rush for success, how do I help my soul to breathe and my mind to renew? His answer echoes an ancient tradition: withdraw and return; reflect and act. I recommend this book wholeheartedly to everyone who is trying to lead a better life."
—Dick Bolles, author of the bestselling career management book of all time, What Color Is Your Parachute?

"Leadership is a continual process of stepping back to get new perspectives in order to step forward with greater innovation and impact. Cashman captures the essence of leading in our dynamic, global marketplace."
—Paul Walsh, CEO, Diageo plc, and former Chairman and CEO, The Pillsbury Company

"Effective leaders would do well to pause and absorb the wisdom that Cashman imparts in this profound book. The Pause Principle demonstrates why creative pauses are an absolutely essential ingredient for clearer, more innovative leadership in today's increasingly dynamic, warp-speed world."
—Paul A. Laudicina, Chairman and Managing Partner, AT Kearney, and author of Beating the Global Odds

"Leaders, like so many others, are suffering from hurry sickness—always going somewhere, never being anywhere. The Pause Principle is just the right prescription for slowing down, listening, and getting the clarity needed to lead in deep connection with vision and purpose."
—Richard Leider, founder and Chairman, The Inventure Group, and bestselling author of Repacking Your Bags and The Power of Purpose

"Of the thousands writing leadership books, Kevin Cashman hits the mark. In their quest for speed and efficiency, many leaders fail to pause and ponder, losing perspective, performance capability, and the ability to sustain operations as a consequence. Cashman coaches leaders from madness to sanity, then to wisdom, wealth, and self-worth—the new triple bottom line."
—Ken Shelton, CEO and Editor, Leadership Excellence

"Cashman has cut through the leadership clutter and found the essence of elevating leadership excellence: pause to perform, pause to be on purpose, pause to innovate. It has freed me to make better decisions, push boundaries further, and be more present to myself and with my team. "
—Dr. Deborah Dunsire, CEO, Millennium: The Takeda Oncology Company

"Leave it to Kevin Cashman to challenge us to stop…to dig deeper for purpose and relational connection, to journey beyond the limits of the known to the unknown, to bring more of our leadership potential forward. If you think pause is for the fainthearted, think again. Pause is for the brave-hearted, fearless, most innovative leaders."
—Karen Kimsey-House, cofounder and CEO, The Coaches Training Institute, and coauthor of Co-Active Coaching

"As we've come to expect, Kevin Cashman has once again given us a fresh new way of looking at leadership. In this particular case, he's produced a primer on the principle of 'pause.' And more than just telling us why it matters, Cashman clearly shows us how we can apply this powerful and effective tool to help move our organizations forward."
—David Shadovitz, Editor and Publisher, Human Resource Executive

"Leadership is tough, but with Cashman's The Pause Principle, you can make it a lot easier and more impactful. Get this book to sort through the leadership smog with clarity, purpose, and innovation!"
—Michael Paxton, Chairman, Transport America, and former CEO, Chamilia and Häagen Dazs

"Grab this book, pull up a chair, and spend some quality time you deserve with one of the best executive coaches out there today. Kevin Cashman's The Pause Principle delivers the wisdom we all need in this crazy, fast-paced world. You'll find your time with Cashman reaffirming, energizing, and rewarding."
—Kevin D. Wilde, Chief Learning Officer, General Mills, and author of Dancing with the Talent Stars