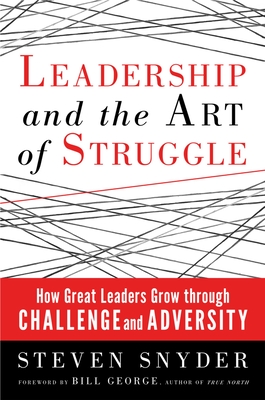 Leadership and the Art of Struggle: How Great Leaders Grow Through Challenge and Adversity (Paperback)
How Great Leaders Grow Through Challenge and Adversity
Berrett-Koehler Publishers, 9781609946449, 216pp.
Publication Date: March 11, 2013
Description
Leadership and the Art of Struggle shatters leadership myths to reveal a new understanding of how exceptional leaders grow from adversity. The image that effective leaders guide their organizations on perpetually smooth journeys quite simply defies reality. Leadership is often a struggle, and yet strong taboos keep us from talking openly and honestly about our struggles for fear of looking weak and seeming to lack confidence.
Exceptional leaders intuitively understand the paradox. They know it's precisely struggle that unlocks the potential for the greatest growth. Instead of denying struggle, these leaders embrace struggle as an opportunity for learning, as an art to be mastered.
"Leadership and the Art of Struggle" paints a realistic portrait of how great leaders navigate intense challenges for personal growth and organizational success. Through 150 stories of leadership struggle drawn from nearly 100 leaders, as well as from his experiences as an early executive at Microsoft, a CEO of a public company, and an executive coach, Steven Snyder derives mastery strategies for welcoming struggle as an integral part of your leadership journey. To help you implement each of these strategies, he offers a host of unique tools and specific, hands-on practices. You'll learn how to cultivate the best mindset for confronting challenges, explore multiple tactics for dealing with struggle, and keep your energy high so you can continue to learn and grow.
"Leadership and the Art of Struggle" begins a new conversation about leadership. The very striving to make important human values real and effective is core to the practice of leadership. By mastering the art of struggle, leaders meet life's challenges and adversities, focusing their energies on what matters most.
About the Author
Steven Snyder is the founder of Snyder Leadership Group, an organizational consulting firm dedicated to cultivating inspired leadership. He is also an executive fellow in leadership at the University of St. Thomas in Minnesota. Snyder was an early executive at Microsoft, where he managed the company's relationship with IBM and was the general manager of a business unit. Later, Snyder became CEO of the Internet startup Net Perceptions, where he won the World Technology Award for Commerce.
Advertisement