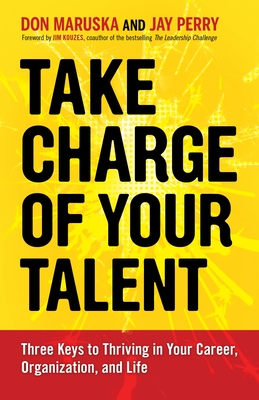 Take Charge of Your Talent
Three Keys to Thriving in Your Career, Organization, and Life
Paperback

* Individual store prices may vary.
Other Editions of This Title:
Digital Audiobook (8/31/2015)
MP3 CD (9/1/2015)
Compact Disc (9/1/2015)
Compact Disc (9/1/2015)
Description
Whether you're the new kid in a cubicle, the boss in the executive suite, or self-employed, you have huge potential for greater productivity and fulfillment. Even very high performers in excellent organizations—large and small, for profit and nonprofit—report that 30 to 40 percent of their talent is untapped. Imagine what lies waiting for you.

Take Charge of Your Talent details three keys to develop and enjoy your abilities. You'll discover new ways to identify your aspirations and opportunities, power past obstacles, and translate your intentions into results. Finally, you'll create a personal brand with enduring career assets that will multiply the payoffs for yourself and your organization.
Praise For Take Charge of Your Talent: Three Keys to Thriving in Your Career, Organization, and Life…
"This inspiring book will teach you how to unlock your gifts and release your power and potential."
—Ken Blanchard, coauthor of The One Minute Manager and Great Leaders Grow

"This wonderfully practical and inspiring book is based on a belief I cherish: that all humans are creative and have talent."
—Margaret J. Wheatley, author of Leadership and the New Science and So Far From Home

"Maruska and Perry's book shows how we can harness our talents in ways that expand our horizons, ramp up our ability to bring out our best, and energize those around us in the same way. Indispensable."
—Michael Ray, professor emeritus, Stanford Business School, coauthor of Creativity in Business, and author of The Highest Goal

"This book offers you the keys to ignite your personal power."
— from the Foreword by Jim Kouzes, coauthor of the bestselling The Leadership Challenge

"I've seen the key practices in Take Charge of Your Talent work with hundreds of people--from front-line employees to CEO. Read it and help your career and your organization thrive."
—Frank Benest, Senior Advisor for Next Generation Initiatives, International City-County Management Association

"I've long been aware that even the best of our company-sponsored talent development programs only reach a select few, leaving tremendous potential in the organization untapped. This powerful, persuasive book effectively supplies the tools for all employees to gain a fresh perspective, articulate aspirations, and recognize opportunities while confronting concerns and obstacles to gain results."
—Ursula Kiel-Dixon, special projects manager, Corporate Center HR, ThyssenKrupp AG, Germany

"In the new era of free agents, this book provides exactly what both individuals and organizations are looking for. Don and Jay have delivered a proven and easy to understand process for the development of an organization's most precious resource, its talent pool. In so doing, they inspire more job satisfaction and greater career fulfillment."
—John Steinhart, Silicon Valley HR consultant and former Director of Stanford Business School's Sloan Executive Program

"The heart of this book is a profound but easy to learn approach to becoming a 'generous listener.' Using the transformational power of this mindful practice, Maruska and Perry expertly guide the reader in a step-by-step process for recognizing, catalyzing, and optimizing your talent, while helping others discover and express theirs. Highly recommended."
—Michael J. Gelb, author of How to Think Like Leonardo da Vinci and Brain Power: Improve Your Mind as You Age

"All too often, I hear promising young talents speak of being 'lucky' in their careers. I hate that. You make your own luck by knowing your strengths, embracing risk, and leading change. This book has the keys to unlocking what makes you thrive so that you can give voice to your ambition with authenticity and purpose."
—Denny Marie Post, Senior Vice President, Chief Marketing Officer, Red Robin International

"The world is filled with people who never realize their potential, many of whom never even realize they have unfulfilled potential. Take Charge of Your Talent provides an effective game plan for helping people move toward their hopes for what they might become."
—Jim Thompson, Positive Coaching Alliance Founder and author of Elevating Your Game

"This practical book, filled with detailed coaching and useful exercises, reflects the extensive experience of the authors in coaching executives. This book will help you clarify, enhance, and finds ways to apply your talents."
—Jim Clawson, Johnson & Higgins Professor of Business Administration, Darden School, University of Virginia

"Take Charge of Your Talent is a positive and refreshing approach to talent development. The Take Charge methodology offers techniques on how to own and grow your career while supporting personal and professional development of your colleagues -- creating a win-win for all!"
—Renée Robertson, former Director, Talent Development - Verizon

"The powerful tools offered in this book provide the only real security we have in today's job market – the ability to take control and fully realize one's talent." 
—Dawn Legg, Construction Liaison, Topaz Solar Farms, First Solar

"The gem of Take Charge of Your Talent is that it re-enforces the (often lost) reality that there are opportunities at any time, in any business climate. It is the prospect for meaningful productivity using your unique talents that lights the fire.
—John C. Summer, Director of Business Development, Taylor Frigon Capital Management LLC

"I had the opportunity to experience the Talent Catalyst Conversation with many of my HR colleagues, and it was amazing to see how following the process led to igniting possibilities for the participants. I hope Maruska and Perry realize their vision of 20 million people in 20 countries having these keys to take charge of their talent by the year 2020!"
—Donna Vaillancourt, President, County Personnel Administrators Association of California

Berrett-Koehler Publishers, 9781609947231, 216pp.
Publication Date: January 7, 2013
About the Author
Don Maruska founded and was CEO of three Silicon Valley companies and now inspires and guides leaders and teams around the world to be their best in their work and careers. He is the author of How Great Decisions Get Made.
Jay Perry is one of the founders of Coach University and the International Coach Federation and has over two decades of experience bringing forth the creative genius of people in all walks of life.
or
Not Currently Available for Direct Purchase