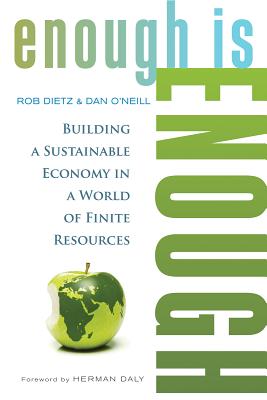 Enough Is Enough
Building a Sustainable Economy in a World of Finite Resources
Paperback

* Individual store prices may vary.
Other Editions of This Title:
Paperback, Large Print, Large Print (1/1/2013)
Paperback (2/1/2013)
Description
We're overusing the earth's finite resources, and yet excessive consumption is failing to improve our lives. In Enough Is Enough, Rob Dietz and Dan O'Neill lay out a visionary but realistic alternative to the perpetual pursuit of economic growth—an economy where the goal is not more but enough.

They explore specific strategies to conserve natural resources, stabilize population, reduce inequality, fix the financial system, create jobs, and more—all with the aim of maximizing long-term well-being instead of short-term profits. Filled with fresh ideas and surprising optimism, Enough Is Enough is the primer for achieving genuine prosperity and a hopeful future for all.
Praise For Enough Is Enough: Building a Sustainable Economy in a World of Finite Resources…
"Humans seem to be intent on confirming the argument of biologist Ernst Mayr that higher intelligence may be a lethal mutation. But the grim prognosis is not inevitable. This lucid, informed, and highly constructive book shows that with the will to act, solutions can be found to build a steady-state economy geared to meeting human needs."
—Noam Chomsky

"Rob Dietz and Dan O'Neill bring clarity and style to their impassioned and meticulous analysis, offering the way to a better quality of life and a sustainable future for all."
—Kate Pickett, Professor of Epidemiology, University of York; cofounder, The Equality Trust; and coauthor of The Spirit Level

"Dietz and O'Neill create a remarkable vision—a world with enough prosperity and happiness for everyone, not just for a few. This book will restore your hope in the future and give you specific things you can do to help!"
—Thom Hartmann, internationally syndicated talk show host and author of twenty-four books
Berrett-Koehler Publishers, 9781609948054, 256pp.
Publication Date: January 7, 2013
About the Author
Rob Dietz is the editor of the Daly News and the former executive director of CASSE (Center for the Advancement of the Steady State Economy).
Dan O'Neill is a lecturer in ecological economics at the University of Leeds and the chief economist for CASSE.