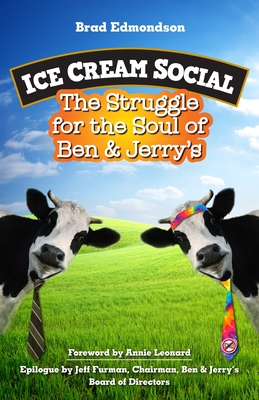 Ice Cream Social
The Struggle for the Soul of Ben & Jerry's
Paperback

* Individual store prices may vary.
Other Editions of This Title:
Paperback, Large Print, Large Print (1/6/2014)
Description
The Riveting True Story of One Of the World's Most Iconic Mission-Driven Companies

Ben & Jerry's has always been committed to an insanely ambitious three-part mission: making the world's best ice cream, supporting progressive causes, and sharing the company's success with all stakeholders: employees, suppliers, distributors, customers, cows, everybody. But it hasn't been easy.

This is the first book to tell the full, inside story of the inspiring rise, tragic mistakes, devastating fall, determined recovery, and ongoing renewal of one of the most iconic mission-driven companies in the world. No previous book has focused so intently on the challenges presented by staying true to that mission. No other book has explained how the company came to be sold to corporate giant Unilever or how that relationship evolved to allow Ben & Jerry's to pursue its mission on a much larger stage.

Journalist Brad Edmondson tells the story with an eye for details, dramatic moments, and memorable characters. He interviewed dozens of key figures, particularly Jeff Furman, who helped Ben and Jerry write their first business plan in 1978 and became chairman of the board in 2010. It's a funny, sad, surprising, and ultimately hopeful story.
Praise For Ice Cream Social: The Struggle for the Soul of Ben & Jerry's…
"In 2011, the Martin Luther King, Jr. Center gave Ben & Jerry's one of its highest honors. This book explains why."
—Martin Luther King III, human rights activist

"As this fine telling of the Ben & Jerry's story indicates, it's harder than it looks to integrate consumer capitalism and political integrity. There are lessons here: hard ones and of course some sweet ones."
—Bill McKibben, author of Oil and Honey: The Education of an Unlikely Activist

"The founders of Ben & Jerry's put up a long and determined fight to keep their dream of a socially responsible company intact. Cutthroat capitalism doesn't make it easy for entrepreneurs who want living wages for their employees, environmentally sustainable ingredients, and socially beneficial business practices. Brad Edmondson gives us a fascinating look behind the scenes of a company as beloved as the ice cream it makes."
—Barbara Ehrenreich, New York Times bestselling author and Founding Editor, Economic Hardship Reporting Project

"The pioneering experience of Ben & Jerry's shows that corporate social responsibility can, thankfully, be contagious. Brad Edmondson takes us behind the scenes to tell this riveting and timely story."
—United States Senator Patrick Leahy

"This book reveals the true ingredients that go into every pint of Ben & Jerry's: GMO-free cream, fair-trade cane sugar, and a lot of blood, sweat, and tears."
—Eric Utne, founder, Utne Reader

"What once was radical is becoming mainstream. By earning B Corp certification, Ben & Jerry's has proven that you can sell without selling out and scale with integrity. Much of the global movement to redefine success in business stands on its shoulders, and much of what we know about better practices and better governance can be traced to lessons the company learned the hard way. Finally, this important story has been well and completely told."
—Jay Coen Gilbert, cofounder, B Lab

"Brad Edmondson vividly conveys the passion, conflicts, and raw humanity behind an iconic brand. He gives us an uncensored look at how smart, caring people poured their hearts and souls into making Ben & Jerry's the standard-bearer for 'caring capitalism.' The story leaves the reader in awe of all they achieved, and it also imparts invaluable lessons by talking frankly about their failures. It puts on full display the contradictions and painful choices that eventually confront all successful mission-driven businesses. It's a journey into uncharted territory."
—Rink Dickinson, cofounder and copresident, and Rob Everts, copresident, Equal Exchange


"Ice Cream Social is a factory tour of the ups and downs and arounds of Ben & Jerry's. We get an insider's description of the struggle of two guys who strived through good times and bad to achieve their mission to make the world's best ice cream, pursue social change, and treat both employees and shareholders fairly. Much of the time, they succeeded."
—Madeleine M. Kunin, former governor of Vermont

"St. Albans Cooperative has been a proud partner of Ben & Jerry's since the beginning. Through all of its organizational changes, it has remained committed to its core values, family dairy farms, and the cooperative. I am proud to be part of this story."
—Ralph McNall, dairy farmer, St. Albans Cooperative Creamery

"When Calvert first heard about Ben & Jerry's, we wondered whether our mission of social investing could even include a company that sold ice cream treats. This book shows how the founders convinced us. For decades, they have been a stellar example of walking the talk."
—Wayne Silby, Founding Chair, Calvert Funds, and cofounder, Social Venture Network

"A fascinating business morality tale . . . Edmondson offers an entertaining and enlightening account of the highs and lows that can be encountered in the quest to give capitalism a soul."
—Lynn A. Stout, Distinguished Professor of Corporate & Business Law, Cornell University Law School

Berrett-Koehler Publishers, 9781609948139, 304pp.
Publication Date: January 6, 2014
About the Author
Brad Edmondson is an award-winning journalist and business consultant, the cofounder of ePodunk.com, and the former editor-in-chief of American Demographics magazine. He is a nationally recognized expert on consumer trends, advertising, and marketing, as well as a frequent keynote speaker at national conferences.
or
Not Currently Available for Direct Purchase