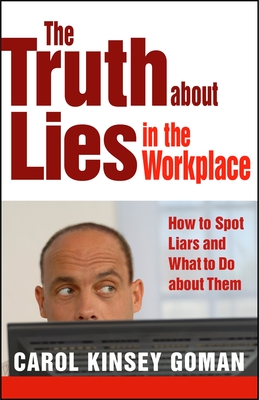 The Truth about Lies in the Workplace
How to Spot Liars and What to Do about Them
Paperback

* Individual store prices may vary.
Other Editions of This Title:
Digital Audiobook (7/8/2013)
Description
You Work with a Bunch of Liars—Learn What to Do About It

Sure, everyone tells little white lies now and then, but real deception in the workplace is a poison that can destroy relationships, careers, and companies. Carol Kinsey Goman, a leading workplace body language expert, combines her own experiences with the latest research to identify fifty subtle physical and vocal cues that will enable you to spot destructive workplace lies. She analyzes the role we play in supporting lies—how our own vanities, desires, self-deceptions, and rationalizations allow us to be duped. And once you detect a lie, she provides tactical advice on how to respond, whether the liar is above, below, or on the same level as you—even if it's your boss.
Praise For The Truth about Lies in the Workplace: How to Spot Liars and What to Do about Them…
"Lying in the workplace causes huge problems for business—the proper people do not get promoted, profits are generally compromised, wrong steps are made, and much more. This book should be a best seller."
—Robert L. Dilenschneider, President and CEO, The Dilenschneider Group, and author of Power and Influence and A Briefing for Leaders

"After 30 years in the training and development industry, I have come to trust Goman's expertise in body language and nonverbal cues in the workplace. I would recommend this book to any leader working to improve culture and effective communication within his or her organization."
—Margie Mauldin, President, Executive Forum

"Goman's book sheds light on a phenomenon in business that too many of us prefer to [pretend] doesn't exist: deception. A must-read for emerging and established leaders alike."
—JD Schramm, EdD, Director, Mastery in Communication Initiative, Stanford University Graduate School of Business

"We live in a world of confusion and deception. The Truth about Lies in the Workplace will make us all successful detectives and fact checkers in our work lives. This book gave me insights into finding the truth and safeguarding my reputation."
—Lee Hornick, President, Business Communications Worldwide, and Program Director, The Conference Board

"The Truth about Lies in the Workplace is more than about spotting liars at work. It's about recognizing our own roles in fostering work- place deception, understanding how our own biases affect the way we interpret and relate to lies of others, and finding ways to minimize the destructive impact of lies and hidden biases. Carol Kinsey Goman brings these concepts together in ways easy to understand. Our challenge is to use this understanding to do the hard work required to create open, honest, and productive workplaces."
—Marci Rubin, Executive Director, California Minority Counsel Program

"Carol Kinsey Goman exposes the mechanics of deception in this powerful new handbook for workplace health and productivity. Add a live keynote or seminar with Carol, and a new era of leadership and exemplary workplace culture is within your grasp."
—Karen Tucker, CEO, Churchill Club

"What a fabulous topic for today's leaders. As we move toward heterarchical organizational design, there's never been a more important time to deal with deception in the workplace."
—Watts Wacker, futurist and bestselling coauthor of The 500 Year Delta

"In today's hyperconnected world, transparency and trust in the work- place are critical. Carol Kinsey Goman clearly understands the power of honest, collaborative leadership. And that's no lie."
—Linda Kaplan Thaler, Chairman, and Robin Koval, CEO, Publicis Thaler

"Carol Kinsey Goman offers a thoughtful, often counterintuitive, and actionable analysis of lying in the workplace and in life. She is an exceptionally good business writer. Her work is practical and useful. I highly recommend Goman's The Truth about Lies in the Workplace to anyone who manages people."
—Timothy Askew, CEO, Corporate Rain International Kaplan KThapalearn

"In this groundbreaking work, Carol Kinsey Goman, PhD, boldly enters a topic that has been taboo for far too long and reveals the tools and tactics necessary to spot the liar in our midst. We attempt to hire warriors only to realize too late that we have hired a cunning liar. Now there is no excuse! The Truth about Lies in the Workplace is a game changer and a long-overdue weapon in the tool kit of every HR professional."
—Brad Szollose, award-winning author of Liquid Leadership

"People lie for different reasons. It can be driven by fear, greed, or even an organizational culture that encourages it. No matter what the reason, lying destroys employee morale and ultimately the bottom line. The Truth about Lies in the Workplace gives you the tools to cut through to the truth and helps you determine what to do when you spot lies."
—Jon Peters, President, The Institute for Management Studies, and CEO, AthenaOnline

"Goman's great book is far more than a primer on how to recalibrate your BS detector. It will completely reframe what you know about lying while providing powerful perspectives and practices on how to nurture trust in the workplace. I promise you'll be surprised and enlightened."
—Chip R. Bell, coauthor of Wired and Dangerous
Berrett-Koehler Publishers, 9781609948375, 168pp.
Publication Date: June 3, 2013
About the Author
Carol Kinsey Goman, PhD, is president of Kinsey Consulting Services. Goman's clients include over 200 organizations in 24 countries, such as Consolidated Edison, Royal Bank of Canada, PepsiCo, Hewlett-Packard, and Expedia. Her work has been featured on CNN, Bloomberg TV, and NBC News.
or
Not Currently Available for Direct Purchase