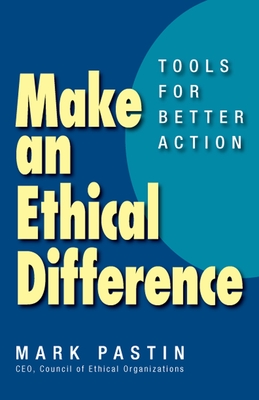 Make an Ethical Difference
Tools for Better Action
Paperback

* Individual store prices may vary.
Other Editions of This Title:
Paperback, Large Print, Large Print (11/4/2013)
Description
We are plagued today by a decline in ethical behavior. Scandals come so thick and fast that any attempt to list them is out of date in weeks if not days. But ethics isn't just a matter of headlines; it's a part of everyone's life. We're called on to make ethical decisions, large and small, all the time. This can be particularly tricky in the workplace, where our decisions can affect not just ourselves but coworkers, clients, customers, and even the entire company.

Existing ethics books are of limited use. They generally feature one author's opinions on very specific situations, which may well have nothing to do with the problems we're facing. And anyway, we don't need expert advice. Mark Pastin insists every one of us is qualified to resolve even the thorniest dilemmas ourselves, and in this profoundly practical book he gives us the tools to do just that.

Pastin argues that we all have an innate ethical –he calls it "the ethics eye." The problem is, we're not aware we have it or how to develop it. Here he provides practical tools we can use to open up our ethics eye so that we can consistently see what is right and do it.

Make an Ethical Difference shows how to apply these tools using actual ethical dilemmas drawn from Pastin's decades of experience as an advisor to governments, corporations, and NGOs. The point is not to try to wedge your situation into one of the examples—it's to show how a tool that can be applied to any situation is used in one particular instance. And once you've reached a decision, Pastin offers strategies for building consensus with those who might disagree with you.

People often feel hopeless and skeptical that there is anything they as individuals can do to raise society's ethical level or resolve long-standing impasses. By using the unique tools in this book, we will gain confidence in our innate ethical sense and take actions that will elevate the ethical level of the groups and organizations we belong to and society as a whole.
Praise For Make an Ethical Difference: Tools for Better Action…
"I know no one who has accomplished more than Pastin across the entire operations of ethical behavior. Enjoy his book, embrace his vision, adhere to his basic values and we will be a more ethical society."
—Joe Rocks, CEO, NHS Human Services

"Mark Pastin has written the only book on ethics that is worth reading."
—Ian I. Mitroff, Professor Emeritus, Marshall School of Business, USC

"Pastin continues to take ethics to the next level using examples to make the book not only interesting but also actionable and pragmatic."
—Tony Spezia, President and CEO, Covenant Health

"This book is a must-read for everyone who is involved in a leadership position at any level in an organization. An excellent 'self-reflection' manual, it was a quick read that kept me engaged! Dr. Pastin's efforts should cause readers to step back and look at the culture of their entity and the moral compass direction they have set for themselves. Its practical application is self-evident."
—Michael H. Covert, FACHE, President and CEO, Palomar Health, San Diego, California

"Look no further if you are truly interested in finding practical solutions for difficult and complex ethical problems affecting you within your organization! Dr. Mark Pastin has provided an easy-to-follow, practical approach to effectively deal with today's intricate, complex, and at times dilemmatic ethical situations. Speaking from decades of world-class academic and consultancy experience in ethics, his narrative style keeps your interests going and makes the reading seem more like a novel rather than a heavy-duty academic work."
—Constant Cheng, Professor, George Mason University

"Dr. Pastin elegantly discusses modern ethics with a unique perspective that engages the reader with humor and real-life applicability. This is an exceptional exploration of ethical challenges faced in business along with a set of effective tools for overcoming them. A must-read for individuals looking to successfully navigate corporate America with integrity."
—Debra Burock, PhD, CCP, Regional Director of Program Evaluation and Practice Development, NHS Human Services

"Make an Ethical Difference delivers a clear and direct message: merely talking about honesty and integrity is not enough. Every one of us routinely faces ethical challenges, whether we recognize them as such or not. Dr. Pastin calls on his forty years of experience as an ethics advisor in this thought-provoking book that provides user-friendly, common-sense tools that have been tested and proven in many challenging situations. It is an invaluable guide to the leader who wants to make a lasting difference!"
—James Neal, Chief Compliance Officer, Millennium Laboratories

"Make an Ethical Difference is an informative and enjoyable read! I will definitely be utilizing the principles/tools that were so thoroughly and creatively explained. The case scenarios were most appreciated as they provided realistic examples that anyone can relate to."
—Amber King, Chief Human Resource Officer/Chief Compliance Officer, NorthCrest Medical Center

"Mark Pastin's book gives a variety of stimulating situational examples of some of the ethical issues that he has personally encountered in his international consulting work. He does not just point out the problem but gives a range of workable tools for everyday consideration as we all run into ethnically challenging situations. As a result of using these tools, we all might be better off as we develop our own ethics eye/ethics sense."
—Daniel C. Brenenstuhl, Managing Director, International Business Seminars

"One quote from Mark Pastin's book rings true for all of us: 'The problem in getting ethical conduct to surface in organizations is that people lack the confidence that if they do the right thing, they will succeed.'  With case studies and a solid easy-to-read style, Mark gives you the tools and confidence to ingrain ethical conduct in your organization.  I highly recommend this book for any C-suite executive."
—Lâle White, CEO and Chairman, XIFIN, Inc.

Berrett-Koehler Publishers, 9781609949112, 224pp.
Publication Date: November 4, 2013
About the Author
Mark Pastin is founder and CEO of the Council of Ethical Organizations. He has advised organizations around the world, including Tenet Healthcare, General Electric, GlaxoSmithKline, Caterpillar, and several branches of the US government. Previously, he served as founding director of the Lincoln Center for Ethics. His speaking and consulting assignments span five continents.
or
Not Currently Available for Direct Purchase