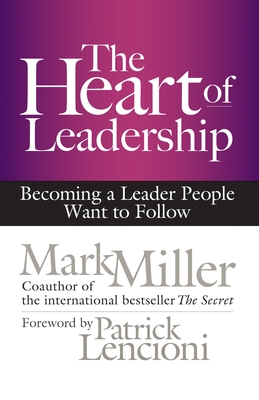 The Heart of Leadership
Becoming a Leader People Want to Follow
Hardcover

* Individual store prices may vary.
Other Editions of This Title:
Digital Audiobook (10/6/2013)
Paperback, Large Print (10/7/2013)
Paperback, Chinese (8/26/2015)
Description
Are you the type of leader people want to follow? You can be—but first, you've got to understand what sets great leaders apart from all the rest.

Certainly, leaders need people skills, execution skills, a deep knowledge of industry trends, the ability to articulate a vision, and more—they must be competent—but that's just the tip of the iceberg. What's below the waterline? What's deep inside the best leaders that makes them different?

Mark Miller contends it is their leadership character. In his latest enlightening and entertaining business fable, he describes the five unique character traits exhibited by exceptional leaders and how to cultivate them.

The Heart of Leadership begins with young and ambitious Blake Brown being passed over for a desperately wanted promotion, despite an outstanding individual performance. Confused and frustrated, he turns to his former mentor, Debbie Brewster. Rather than attempting to solve Blake's problem for him, she sends him on a quest to meet with five of his late father's colleagues, each of whom holds a piece of the puzzle he's trying to solve.

As Blake puts the pieces together, he discovers that in the final analysis, a lack of skills isn't what holds most leaders back; skills are too easy to learn. Without demonstrated leadership character, however, a skill set will never be enough. Most often, when leaders fail to reach their full potential, it is an issue of the heart. This is Blake's ultimate revelation.

This book shows us that leadership needn't be the purview of the few—it is within reach for millions around the world. The Heart of Leadership is a road map for every person who desires to make a difference in the lives of others and become a leader people want to follow.
Praise For The Heart of Leadership: Becoming a Leader People Want to Follow…
"The most important leadership tool you have is not your education, your experience, or your know-how. It's your heart. In this book, Mark provides a clear prescription for using yours to become the kind of leader people want to follow."
—Michael Hyatt, New York Times bestselling author and former CEO, Thomas Nelson Inc.

"Mark once again demonstrates the power of a simple story well told. The Heart of Leadership will serve leaders around the world for decades to come."
—Dr. Henry Cloud, leadership consultant, psychologist, and bestselling author of Boundaries and Necessary Endings

"The Heart of Leadership is a delightfully surprising read. Mark Miller's wisdom shines in his ability to convey profound truths simply and clearly. This book propels leadership beyond strategies and techniques to its most authentic form—who you are."
—Dan Rockwell, author and owner of the Leadership Freak blog, consultant, and pastor

"Mark Miller has crafted a masterwork. Too many books on leadership are about selfishly getting ahead. This book addresses the leader's heart. By addressing the heart, you do get ahead, but it's a more satisfying journey."
—Nancy Duarte, author of Resonate and CEO, Duarte Designs

"This book will help you reach your leadership potential, espousing good principles that most learn only through the school of hard knocks—and many never learn at all."
—Ron Wallace, former President, UPS International

"Mark Miller has done it again! Another outstanding book—this time on the most important aspect of leadership: who you are as a leader. If you focus only on skills, you are ignoring 90 percent of what makes a great leader.
—Jesse Lyn Stoner, coauthor of the international bestseller Full Steam Ahead!

"The Heart of Leadership addresses the primary stumbling block for leaders – themselves!   If you want to improve how you lead others, you must first improve how you lead yourself. This great little book shows you how.
—Daniel S. Harkavy, CEO and Executive Coach, Building Champions, Inc.

"The Heart of Leadership extends and deepens the bestselling leadership models pioneered by Mark Miller.  This book is clear, compelling, and of real practical value. Keep it on hand  -- a small investment of time will yield a lifetime of dividends, in life as well as career. 
—Jeff Rosensweig, Associate Professor of International Business and Finance and Director of Emory University's Goizueta Business School and Global Perspectives Program

'There's a difference between potential leaders with raw talent and great leaders with real influence. Mark's book reveals the foundational difference -- it's all about leadership character."
—Tony Morgan, author, Chief Strategic Officer and founder of TonyMorganLive.com

"Mark Miller's The Heart of Leadership immediately creates a place for personal discovery. As I read each page, I was no longer thinking of  "Blake" the main character, but myself. Blake's journey of discovery became my own. This is about the "life" of leadership and how it reaches within and without having profound and long-lasting impact. It's about being unselfishly driven and highly motivated. It is about how others within the workplace and within our lives benefit from our personal resolve to lead from the perspective that others matter."
—Clifton L. Taulbert, Author of Eight Habits of the Heart and President, The Freemount Corporation/Building Community Institute

"There are so many buzzwords in business that claim to be the answer to all leadership woes. The truth is that leadership is all about the people, and to have success with people, read The Heart of Leadership, and watch your leadership soar to a whole new level."
—Todd Nielsen, author and COO JMARK Business Solutions
Berrett-Koehler Publishers, 9781609949600, 144pp.
Publication Date: October 7, 2013
About the Author
Mark Miller began writing about a decade ago when he teamed up with Ken Blanchard on The Secret: What Great Leaders Know and Do. Since then, his books have sold almost 600,000 copies worldwide. Miller encourages leaders through his posts on GreatLeadersServe.org. It's rated as one of the top leadership blogs in the world and has garnered almost 2 million page views since its inception less than two years ago. Miller also sells chicken. He started his Chick-fil-A career working as an hourly team member back in 1977. He joined the corporate staff in 1978, working in the warehouse and mailroom. Today he serves as the vice president for organizational effectiveness.


Miller also sells chicken. He started his Chick-fil-A career working as an hourly team member back in 1977. He joined the corporate staff in 1978, working in the warehouse and mailroom. Today he serves as the vice president for organizational effectiveness.