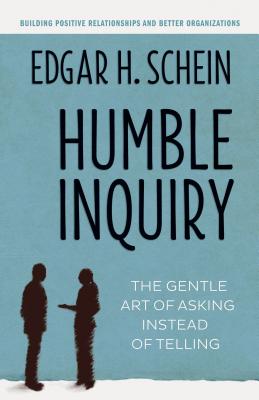 Humble Inquiry (Paperback)
The Gentle Art of Asking Instead of Telling (The Humble Leadership Series #2)
Berrett-Koehler Publishers, 9781609949815, 144pp.
Publication Date: September 2, 2013
Other Editions of This Title:
Paperback, Large Print (9/2/2013)
Compact Disc (12/2/2014)
Compact Disc (12/2/2014)
Hardcover (9/2/2013)
* Individual store prices may vary.
Description
Communication is essential in a healthy organization. But all too often when we interact with people—especially those who report to us—we simply tell them what we think they need to know. This shuts them down. To generate bold new ideas, to avoid disastrous mistakes, to develop agility and flexibility, we need to practice Humble Inquiry.

Ed Schein defines Humble Inquiry as "the fine art of drawing someone out, of asking questions to which you do not know the answer, of building a relationship based on curiosity and interest in the other person." In this seminal work, Schein contrasts Humble Inquiry with other kinds of inquiry, shows the benefits Humble Inquiry provides in many different settings, and offers advice on overcoming the cultural, organizational, and psychological barriers that keep us from practicing it.
About the Author
Edgar H. Schein is the Society of Sloan Fellows Professor of Management Emeritus at the MIT Sloan School of Management. His previous books include Helping; Process Consultation Revisited; The Corporate Culture Survival Guide; DEC Is Dead, Long Live DEC; Organizational Culture and Leadership; and Career Anchors.
Praise For Humble Inquiry: The Gentle Art of Asking Instead of Telling (The Humble Leadership Series #2)…
"An invaluable guide for a consultant trying to understand and untangle system and interpersonal knots. Written with a beguiling simplicity and clarity, it is laden with wisdom and practicality."  
—Irvin Yalom, MD, Professor Emeritus of Psychiatry, Stanford University

"The lessons contained in this deceptively simple book reach beyond the author's experience gained from a lifetime of consultation to organizations of all sizes and shapes. It provides life lessons for us all. If, as a result of reading this book, you begin to practice the art of humble asking, you will have taken an important step toward living wisely."
—Samuel Jay Keyser, Peter de Florez Professor Emeritus, MIT

"This book seriously challenges leaders to re-examine the emphasis on task orientation and 'telling' subordinates how best to do their jobs. Humble Inquiry increases organizational capacity to learn more from cross-cultural teamwork, reduces stress, and increases organizational engagement and productivity."
—Jyotsna Sanzgiri, MBA, PhD, Professor, California School of Professional Psychology, Alliant International University

"This book is particularly important for leaders who in these complex times need advice and tools for building trust in their relationships with subordinates individually or in teams."
—Danica Purg, President, IEDC-Bled School of Management, Bled, Slovenia

"This book is an exercise in inquiry by a recognized master of humble insight."
—Art Kleiner, Editor-in-Chief, Booz & Company/strategy+business

"Ed Schein has provided a new and thoughtful reframing of interpersonal dynamics through the notion of Humble Inquiry. This short book is packed with insights as Schein rigorously explores the impact of his ideas in his usually clear and readable style."
—Michael Brimm, Professor of Organizational Behavior, INSEAD Europe

"Humble Inquiry is an elegant treatment of how to go about building and sustaining solid, trusting relationships in or out of the workplace. A masterful take on a critical human skill too infrequently practiced."
—John Van Maanen, Erwin Schell Professor of Management and Professor of Organization Studies, MIT

"A fast read and full of insight! Schein uses stories from his personal life and his successful career as a process consultant that pointedly ask, 'How willing are you to cast aside hierarchy? How personal are you willing to be?' Considering the cultural, occupational, generational, and gender communication barriers we face every day, Humble Inquiry proposes a very practical, nonthreatening approach to bridging those gaps and increasing the mutual understanding that leads to operational excellence."
—Rosa Antonia Carrillo, MSOD, safety leadership consultant

"A remarkably valuable guide for anyone interested in leading more effectively and building strong relationships. Ed Schein presents vivid examples grounded in a lifetime of experience as husband, father, teacher, administrator, and consultant."
—Robert B. McKersie, Professor Emeritus, Sloan School of Management, MIT

"Ed Schein has an eye for bold yet subtle insights into the big picture and a knack for writing about them clearly. Humble Inquiry—like his previous book Helping—shows that he is equally talented at bringing fresh thinking to well-trodden ground."
—Grady McGonagill, EdD, Principal, McGonagill Consulting

"What did I gain from reading Humble Inquiry? I became more aware of the subtle but powerful ways we affect each other as we talk and how the right kind of questions can dramatically improve the quality and efficiency of communication, with benefits that range from increased patient safety and satisfaction to employee motivation and morale to organizational performance. You can't afford to not know about this."
—Anthony Suchman, MD, MA, University of Rochester School of Medicine and Dentistry

"With the world as his classroom, Ed Schein continues to guide us through modern day chaos with the powerful behaviors of Helping and Humble Inquiry. This is a must-read for anyone who truly wishes to achieve important goals!"
—Marjorie M. Godfrey, Codirector, The Dartmouth Institute for Health Policy & Clinical Practice Microsystem Academy

"I have had the privilege of working with Ed Schein. Reading Humble Inquiry I could hear his voice asking me those humble questions that joined us in a mutual search for the answer. His book distills what he has learned and practiced in a lifetime of helping high-powered leaders be even more successful."
 —Anthony F. Earley, Jr., Chairman, CEO and President, PG&E Corporation

"Schein helps us understand the importance of transcending hierarchy and authority to build authentic relationships predicated on trust and respect. Humble iInquiry is a powerful approach to building safe environments for our people and, ultimately, our patients."
—Gary S. Kaplan MD, Chairman and CEO, Virginia Mason Health System

"Quiet wisdom from an expert, enlivened by personal examples. Insightful and easy to read, it made me look again at my own behavior in my relationships, both at work and in the home."
—Charles Handy

or
Not Currently Available for Direct Purchase