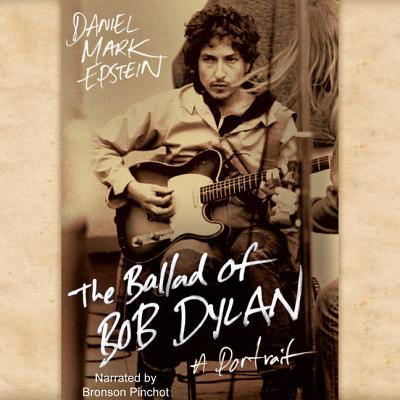 The Ballad of Bob Dylan: A Portrait (Compact Disc)
A Portrait
Audiogo, 9781609983079
Publication Date: June 14, 2011
Description
The Ballad of Bob Dylan is a vivid, full-bodied portrait of one of the most influential artists of the 20th century--a man widely regarded as the most important lyricist America has ever produced. Acclaimed poet and biographer Daniel Mark Epstein frames Dylan against the backdrop of four seminal concerts--all of which he attended: Lisner Auditorium, Washington, D.C., 1963; Madison Square Garden, New York City, 1974; Tanglewood, Massachusetts, 1997; Aberdeen, Maryland, 2009. Recreating each performance song by song, Epstein places them within the larger context of Dylan's life, from his meteoric rise as a young folk singer through his reemergence in the 1990s and his role as the eminence grise of rock-and-roll today. He explores the star's private side, including marriage and fatherhood, and his struggle to overcome substance abuse. Epstein also traces the influences that shaped Dylan's career and offers a thoughtful analysis of his work and fresh interpretations of his lyrics. Here, too, are anecdotes and insights from those closest to the man, including D. A. Pennebaker, Allen Ginsberg, Nora Guthrie, Ramblin' Jack Elliot, and Dylan's sidemen throughout the years.
About the Author
Daniel Mark Epstein has written more than fifteen books of poetry, biography, and history, including "Lincoln and Whitman, " which received an Academy Award from the American Academy of Arts and Letters, and "The Lincolns: Portrait of a Marriage, " named one of the top ten books of 2008 by the "Wall Street Journal" and "Chicago Sun-Times." He lives in Baltimore.

Bronson Pinchot is best known for his lead role in the popular sitcom "Perfect Strangers." His film roles include "Beverly Hills Cop" and "Risky Business." He has performed in several Broadway productions, and continues to appear on television in various roles.
Advertisement