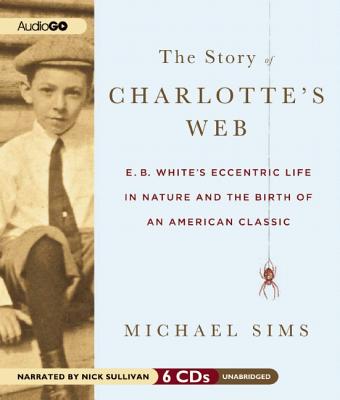 The Story of Charlotte's Web: E. B. White's Eccentric Life in Nature and the Birth of an American Classic (Compact Disc)
E. B. White's Eccentric Life in Nature and the Birth of an American Classic
AudioGO, 9781609988722
Publication Date: March 1, 2012
* Individual store prices may vary.
or
Not Currently Available for Direct Purchase
Description
As he was composing what was to become his most enduring and popular book, E. B. White was obeying that oft–repeated maxim: "Write what you know." Helpless pigs, silly geese, clever spiders, greedy rats—White knew all of these characters in the barns and stables where he spent his favorite hours. Painfully shy his entire life, "this boy," White once wrote of himself, "felt for animals a kinship he never felt for people." It's all the more impressive, therefore, how many people have felt a kinship with E. B. White. With Charlotte's Web, which has gone on to sell more than 45 million copies, the man William Shawn called "the most companionable of writers" lodged his own character, the avuncular author, into the hearts of generations of readers. In The Story of Charlotte's Web, Michael Sims shows how White solved what critic Clifton Fadiman once called "the standing problem of the juvenile–fantasy writer: how to find, not another Alice, but another rabbit hole" by mining the raw ore of his childhood friendship with animals in Mount Vernon, New York, translating his own passions and contradictions, delights and fears, into an all–time classic. Blending White's correspondence with the likes of Ursula Nordstrom, James Thurber, and Harold Ross, the E. B. White papers at Cornell, and the archives of HarperCollins and The New Yorker into his own elegant narrative, Sims brings to life the shy boy whose animal stories—real and imaginary—made him famous around the world.
About the Author
Michael Sims is the author of acclaimed nonfiction such as "Adam's Navel: A Natural and Cultural History of the Human Form" and "Apollo's Fire: A Day on Earth in Nature and Imagination," as well as a companion book to the National Geographic Channel TV series "In the Womb: Animals." He is also the editor of several literary collections, including "The Annotated Archy and Mehitabel, The Penguin Book of Victorian Women in Crime," and "Dracula's Guest," the first volume of his new Connoisseur's Collection of Victorian Fiction for Bloomsbury. His writing has appeared in many periodicals, including the "Times of London, Chronicle of Higher Education, Orion, New Statesman," and "The Washington Post." Visit his website at www.michaelsimsbooks.com.
Advertisement