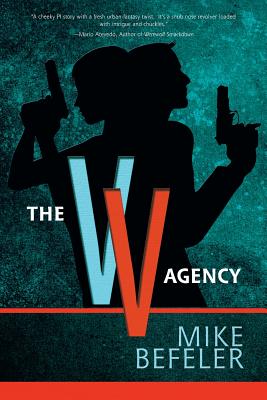 The V V Agency (Paperback)
Dark Oak Mysteries, 9781610090735, 230pp.
Publication Date: May 6, 2013
* Individual store prices may vary.
Description
Imagine a dash of Philip Marlowe wrapped in an urban fantasy. The V V Agency is a paranormal mystery that spoofs the PI subgenre and introduces the transvictus-a unique shape shifter. Van and Vanna run a detective agency, but clients never see them together for a simple reason. A sexual encounter transforms one into the other, and nudity renders them invisible. This presents some interesting dilemmas for his and her love lives, but gives them a distinct advantage when doing detective work. In this, the first book in the series, Van and Vanna take the case of a woman suspected of killing her husband. Early Readers Say: "A cheeky PI story with a fresh urban-fantasy twist. It's a snub nose revolver loaded with intrigue and chuckles."--Mario Acevedo, author of Werewolf Smackdown (see above...if used on the front in its entirety, omit from back. AND if the shortie is used on the front and you are cramped on the back, omit this one and go with the other two ) "I'm a huge fan of Mike Befeler's Geezer-lit Mysteries, so when given the opportunity to read The VV Agency, I had an idea of what I'd be reading and jumped at the chance. Wrong. Befeler branches out into one of the most interesting paranormal mysteries I've ever read. Definitely not some of the same old, same old. Fun and compelling. --Donnell Ann Bell, Author of The Past Came Hunting and Deadly Recall. Zany and clever, The V.V. Agency is written in a style reminiscent of detective novels of the '40s, but oh so much more original. The sleuth, when naked is invisible-but that's not his only power, the second one is problematic to his sex life. --F. M. Meredith, author of Dangerous Impulses About the Author: Mike Befeler writes humorous novels, and THE V V AGENCY is his latest offering-a paranormal mystery. His previously published books include CRUISING IN YOUR EIGHTIES IS MURDER, SENIOR MOMENTS ARE MURDER, RETIREMENT HOMES ARE MURDER and LIVING WITH YOUR KIDS IS MURDER, which was a finalist for the Lefty Award for best humorous mystery of 2009. Mike is president of the Rocky Mountain Chapter of Mystery Writers of America. http: //www.mikebefeler.com.
or
Not Currently Available for Direct Purchase