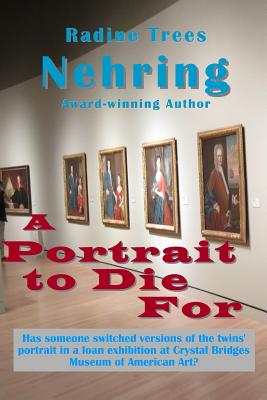 A Portrait to Die for (Paperback)
Dark Oak Mysteries, 9781610092227, 282pp.
Publication Date: April 14, 2016
* Individual store prices may vary.
Description
"Carrie discovers two versions of a supposedly original portrait in a loan exhibition at Crystal Bridges Museum of American Art. When a reporter who interviewed Carrie at the museum disappears, Carrie must choose between her promise to stop crime-solving or work to find the woman--a college friend of her son's. Early Readers comments . A bombing, kidnapping, arson, and serious gunplay--Radine Trees Nehring has done it again....delivered an intriguing tale. Using her faith and her ingenuity, and with capable assistance from her husband Henry, amateur sleuth Carrie McCrite finds herself dealing with a strangely aggressive reporter and a volatile Iraqi war veteran while trying to make sense of duplicate portraits she sees in a loaned exhibition at Crystal Bridges Museum of American Art. Tackling her biggest challenge yet, Carrie sorts through a series of confusing scenarios, only to face a man who'll do anything to protect his lucrative scheme. Joe David Rice, Tourism Director, Arkansas Department of Parks and Tourism Radine Trees Nehring has again earned her Arkansas Writers Hall of Fame acclaim by setting A Portrait to Die For in the world-honored Crystal Bridges Museum of American Art in Bentonville, Arkansas. Popular amateur sleuth Carrie McCrite is involved in yet another mystery endangering her and her family. This time they deal with art fraud, arson, kidnapping all because of their attempt to locate and save a missing news reporter. Marilyn Collins, Publisher at CHS Publishing, public speaker, noted non-fiction author and teacher. Carrie McCrite loves her work as a volunteer in the library of Arkansas's Crystal Bridges Museum of American Art. Everything is going smoothly until she agrees to be interviewed by a notoriously invasive reporter. Nehring's suspenseful craftsmanship makes this story a never-to-be forgotten read. Barbara Youree, Author and Volunteer at Crystal Bridges Museum of American Art author of Renaissance Brides. Nestled in the hills of Arkansas. Crystal Bridges Museum of American Art is the setting for the latest crime facing Radine Trees Nehring's married senior sleuths, Carrie McCrite and Henry King--only this time there is a threatening twist, exposing how complicated some family relationships can be. An engaging and fun read. Linda Apple, Arkansas Regional Speaker Trainer for Stonecroft Ministries, author of Writing Life; Writing From Your Soul; Connect A Simple Guide to Public Speaking for Writers; and Women of Washington Avenue.
Praise For A Portrait to Die for…
Early Readers' comments….
A bombing, kidnapping, arson, and serious gunplay--Radine Trees Nehring has done it again....delivered an intriguing tale.
Using her faith and her ingenuity, and with capable assistance from her husband Henry, amateur sleuth Carrie McCrite finds herself dealing with a strangely aggressive reporter and a volatile Iraqi war veteran while trying to make sense of duplicate portraits she sees in a loaned exhibition at Crystal Bridges Museum of American Art. Tackling her biggest challenge yet, Carrie sorts through a series of confusing scenarios, only to face a man who'll do anything to protect his lucrative scheme.
—Joe David Rice, Tourism Director,
Arkansas Department of Parks and Tourism

Radine Trees Nehring has again earned her Arkansas Writers Hall of Fame acclaim by setting A Portrait to Die For in the world-honored Crystal Bridges Museum of American Art in Bentonville, Arkansas.
Popular amateur sleuth Carrie McCrite is involved in yet another mystery endangering her and her family. This time they deal with art fraud, arson, kidnapping—all because of their attempt to locate and save a missing news reporter.
—Marilyn Collins, Publisher at CHS Publishing,
public speaker, noted non-fiction author and teacher.
Carrie McCrite loves her work as a volunteer in the library of Arkansas's Crystal Bridges Museum of American Art. Everything is going smoothly until she agrees to be interviewed by a notoriously invasive reporter.
Nehring's suspenseful craftsmanship makes this story a never-to-be forgotten read.
—Barbara Youree, Author and Volunteer at
Crystal Bridges Museum of American Art

or
Not Currently Available for Direct Purchase