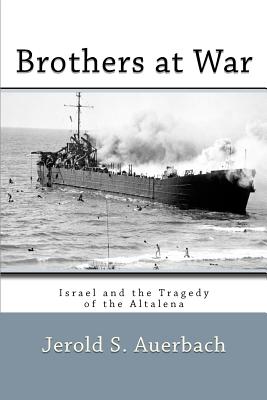 Brothers at War
Israel and the Tragedy of the Altalena
Paperback

* Individual store prices may vary.
Other Editions of This Title:
Hardcover (5/25/2011)
Description
BROTHERS AT WAR is Jerold S. Auerbach's probing and poignant exploration of the tragedy of the Altalena, the doomed ship whose arrival in Israel ignited Jewish fratricidal conflict only weeks after its declaration of statehood in 1948. The destruction of the Altalena, with sixteen of its fighters killed by Israeli soldiers in a bitter two-day battle, threatened the new nation with civil war. This is the first history of the Altalena by a historian and the first to locate it within the context of ancient Jewish and contemporary Israeli history. The Altalena remains embedded in Israeli memory, Auerbach suggests, still framing unresolved issues of political legitimacy and will in the Jewish state. This new book tells the story, and the present profound implications, of a moment in the birth of modern Israel that has angles and repercussions relevant to many issues today, in Israel and beyond.
Quid Pro, LLC, 9781610270618, 174pp.
Publication Date: May 25, 2011
About the Author
Jerold S. Auerbach is Professor Emeritus of History at Wellesley College, where he taught for forty years. His acclaimed books explore such topics in history and society as the legal profession, American Judaism, Israel, and the Pueblo Indians.