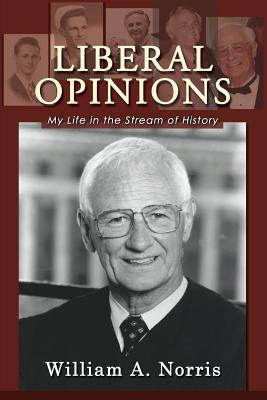 Liberal Opinions (Paperback)
My Life in the Stream of History
Quid Pro, LLC, 9781610273640, 308pp.
Publication Date: August 12, 2016
Other Editions of This Title:
Hardcover (8/22/2016)
* Individual store prices may vary.
Description
The life and times of a trailblazing lawyer and judge in American law. Author of the controversial but prescient judicial opinion striking down the ban on gays in the military -- two decades before the Supreme Court finally recognized such equal rights -- Bill Norris made law and waves on the Ninth Circuit Court of Appeals. Yet his legal and civic life before and after, though less well known, is equally the measure of the man.
"Bill Norris tells his American story--growing up in Turtle Creek, Pennsylvania, then rising to legal, judicial and political heights in post-war California. His zest for life comes off every page as he fights discrimination, renders justice and inspires a host of brilliant attorneys. His prose is crisp and fast-paced. His America: uncommonly decent."
-- Edmund Gerald "Jerry" Brown Jr., Governor of California
"A truly compelling story of an amazing man. Bill Norris' memoir is a beautifully written account of a man who rose to the top of the legal world and was an integral part of some of the most important issues of the last half century. Most of all, it is an inspiring book that is a powerful reminder of how much one person can accomplish."
-- Erwin Chemerinsky, Dean and Raymond Pryke Professor of First Amendment Law
University of California, Irvine School of Law
"Recounted in this remarkable book is a conversation Bill Norris had with Justice White following his opinion for the Supreme Court in Bowers v. Hardwick, upholding Georgia's sodomy law. Shortly after, Justice White visited the Ninth Circuit Judicial Conference and Bill confronted him about the injustice of the decision. I witnessed the interaction. No one else was bold enough to challenge the Justice, though others harbored the same doubts. Justice White shrugged off Bill's concerns as trivial, but Bill stood firm and I could see from his tone and look that he would have none of it. Soon, Bill set about undermining Bowers with his brilliant opinion in the Perry Watkins case. The theory in Watkins resulted, a decade and a half later, in the overruling of Bowers and, eventually, to marriage equality. This story, among many others, makes this personal history a gripping and fulfilling read."
-- Alex Kozinski, Judge, U.S. Court of Appeals for the Ninth Circuit
"Liberal Opinions traces William Norris' journey from a small Pennsylvania town to influential Los Angeles civic leader and co-founder of the Museum of Contemporary Art to the Ninth Circuit Court bench. With candor and deep reflection, Norris shares the personal stories and principles that helped propel him from humble beginnings to becoming a leading liberal voice for our country."
-- Eli Broad, philanthropist and founding chairman of MOCA
"When it comes to MOCA, this is a story at the edge of Hollywood drama and true philanthropy, and civic engagement and true commitment to the art. MOCA's conception is the living proof that art, contemporary art, risk taking, and commitment to aesthetic experimentations are a key component of civic, courageous urban development. And because we are in Los Angeles, it had to be a good story fueled with drama "
-- Philippe Vergne, Director, The Museum of Contemporary Art
New in the Journeys & Memoirs Series from Quid Pro Books.