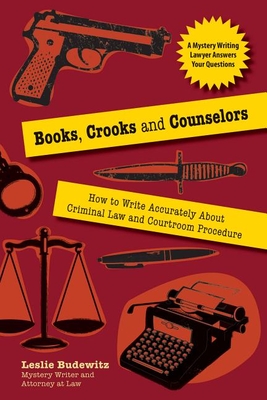 Books, Crooks, and Counselors
How to Write Accurately about Criminal Law and Courtroom Procedure
Paperback

* Individual store prices may vary.
Description
Addressing the misunderstood and misrepresented aspects of the law in today's writing, this reliable guidebook demonstrates how to use legal concepts, terminology, and procedure to create fiction that is true to life and crackling with real-world tension. Examples from actual cases are provided along with excerpts of authentic courtroom dialogue. Topics covered include criminal and civil law; differences between federal, state, and Native American jurisdiction; police and private investigation; wills and inheritances; and the written and unwritten codes that govern the public and private conduct of lawyers and judges. Providing a quick and simple legal reference, this handbook is the key to creating innovative plots, strong conflicts, authentic characters, and gritty realism.
Praise For Books, Crooks, and Counselors: How to Write Accurately about Criminal Law and Courtroom Procedure…
"Straightforward and user-friendly. . . . Will help shave off hours of research time and enable writers to focus more energy on craft, plot, and character development. Highly recommended for aspiring writers of crime fiction." — Library Journal (December 1, 2011)

"A mystery writer's bible. Clear, concise and infinitely useful . . . a smart, easy-to-understand legal guide for mystery writers that will keep your mystery accurate and your story moving. The ultimate mystery writer's handbook!" Laura Childs, New York Times bestselling author, Fiber & Brimstone, Scones and Bones, and The Teaberry Strangler

"Leslie Budewitz's Books, Crooks and Counselors has got everything a writer needs to write about the lawand do it accurately. I'll be consulting it with every new book I write."  Lorna Barrett, New York Times bestselling author, Sentenced to Death and The Booktown Mysteries series

"Destined to become the Bible of legal research for writers. A copy of Books, Crooks and Counselors on your desk would be like having your very own legal Dream Team at your beck and call." Lee Lofland, author, Police Procedure and Investigation

"A helpful introduction . . . written in an easy-to-absorb style. . . . Aimed at novelists, Budewitz's book is also a great reference for freelancers who want to write about law enforcement or screenwriters who want realistic scripts." —The Writer (May 2012)

"Everything a crime writer needs to know regarding criminal law and courtroom procedure. . . . For those who want accuracy in the writing, this is a great book to have on your shelf." —Clay Stafford, president, Killer Nashville mystery, thriller, and crime fiction conference

"A must-have resource for writers. From common terms and phrases to legal issues in criminal investigations and punishment, it's all there in a clear and concise format. This book sits right next to the dictionary on my bookshelves." Brenda Novak, New York Times and USA Today bestselling author, Body Heat, Killer Heat, and White Heat

"A handy and entertaining resource for mystery writers." —Ellery Queen Mystery Magazine (April 2012)
Quill Driver Books, 9781610350198, 205pp.
Publication Date: October 1, 2011
About the Author
Leslie Budewitz is a practicing lawyer with more than 25 years of civil and criminal experience. Her short fiction has been featured in ""Alfred Hitchcock Mystery Magazine,"" ""Ellery Queen Mystery Magazine,"" ""Fish Tales: The Guppy Anthology,"" ""Thug Lit,"" and the ""Whitefish Review,"" and her nonfiction has appeared in the anthologies ""Comfort for Cat Lovers"" and ""Cup of Comfort for Dog Lovers, Vol. II."" She lives in Bigfork, Montana.