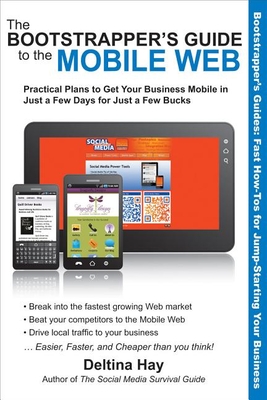 The Bootstrapper's Guide to the Mobile Web (Paperback)
Practical Plans to Get Your Business Mobile in Just a Few Days for Just a Few Bucks
Quill Driver Books, 9781610350525, 226pp.
Publication Date: May 1, 2012
* Individual store prices may vary.
Description
Creating a successful mobile-web presence is achievable with the tools found in this guide--without needing to learn a programming language or become a Web designer. Such a presence is now a necessity, rather than a luxury, for all businesses, organizations, and independent professionals to stay competitive. This quick, practical, hands-on introduction to the nuts and bolts of using the mobile web to grow a brand, improve sales, and increase profits is written for lay people and avoids jargon and programming concepts. Time- and money-saving solutions are presented, teaching technical novices how to quickly adapt their existing websites to the mobile ones and how to easily create mobile applications without having to learn to program. Step-by-step instructions stand alongside real-world examples of successful mobile-web transitions, and advice on best practices is provided to help business owners, entrepreneurs, marketing professionals, and creative professionals create the presence they need to help their business flourish.
About the Author
Deltina Hay is the principal owner of Dalton Publishing and Social Media Power, a social media consulting and Web 2.0 development firm. She is the founder of www.PlumbSocial.com, an innovative Web 2.0 site, and the author of ""The Social Media Survival Guide."" She lives in Austin, Texas.
Praise For The Bootstrapper's Guide to the Mobile Web: Practical Plans to Get Your Business Mobile in Just a Few Days for Just a Few Bucks…
"In this nuts-and-bolts book, social media marketing expert Hay guides the do-it-yourselfer through getting mobile from start to finish, covering everything from style and best practices to creating apps and QR codes. . . . Direct, no-nonsense." —Publishers Weekly (March 12, 2012)

"An amazing resource. . . . If you really need to know how mobile will affect your business and would like to have the tools to be one step ahead of your competition then you are going to love this book." —www.BusinessBookTalk.com