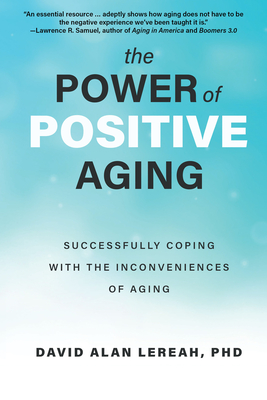 The Power of Positive Aging
Successfully Coping with the Inconveniences of Aging
Paperback

* Individual store prices may vary.
Description
Americans are unprepared for aging. The Power of Positive Aging is a training course to help you survive and thrive through the greatest challenge of your life--growing old.
Americans now live longer than ever--a full 30 years longer than they did in the early 20th century. Our culture and personal expectations have not yet adapted to that change. These extra years can be a burden or an adventure, depending on your mental attitude. You can't fight the inevitable changes to your aging body, but author David Lereah says these changes are at worst inconveniences that won't prevent living a fulfilling life.
Based on life lessons learned during Lereah's successful battle against cancer, The Power of Positive Aging gives readers a practical program of mental and spiritual exercises teaching mindfulness and acceptance, plus strategies for pursuing a balanced life and seeking and accepting social support.
Based on timeless spiritual (but completely practical) principles, The Power of Positive Aging presents a concrete program of specific actions to put these principles into use in everyday life.
Quill Driver Books, 9781610353601, 280pp.
Publication Date: June 2, 2020