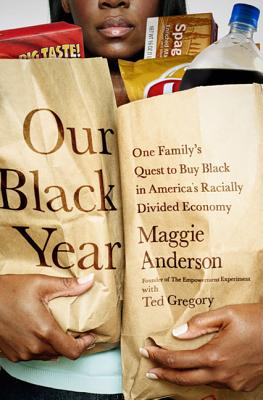 Our Black Year (Hardcover)
One Family's Quest to Buy Black in America's Racially Divided Economy
PublicAffairs, 9781610390248, 298pp.
Publication Date: February 14, 2012
Other Editions of This Title:
Paperback (5/14/2013)
* Individual store prices may vary.
Description
An African American family chronicles their year-long commitment to patronizing only black-owned businesses, exposing economic inequality and inspiring a movement
About the Author
As CEO and cofounder of The Empowerment Experiment Foundation, Maggie Anderson has become the leader of a self-help economics movement that supports quality black businesses and urges consumers, especially other middle and upper class African Americans, to proactively and publicly support them. She has appeared on CNN, MSNBC, Fox News, and CBS Morning News, among many other national television and radio shows. She received her BA from Emory University and her JD and MBA from the University of Chicago. She lives in Oak Park, Illinois, with her husband, John, and their two daughters. Ted Gregory is a Pulitzer Prize-winning reporter for the Chicago Tribune.
Praise For Our Black Year: One Family's Quest to Buy Black in America's Racially Divided Economy…
Alfred Edmond Jr., Senior Vice President/Multimedia Editor-at-Large, Black Enterprise and host of the syndicated radio feature Money Matters on American Urban Radio Networks
"Both heart-wrenching reality check and urgent call to action, Our Black Year: One Family's Quest to Buy Black in America's Racially Divided Economy is an inspiring and often mind-bending case study of what it takes to make self-help economics a reality of day-to-day living for African Americans. The economic odyssey of the Anderson family is nothing short of heroic. If you care at all about making the American Dream a reality for ALL Americans, you must read this book, and apply the lessons and learnings of The Empowerment Experiment that inspired it, to your own life and spending choices. Besides that, it is simply a fantastic read!" 
Cathy Hughes, Founder/Chairperson, Radio/TV One, Inc.
"Thank God for this level of commitment to our Black Community. I observed that year with great interest and pride and am so grateful to the Anderson's for this incredible documentation of what we all could do, if we just made up our minds to do it. Big, big, big Kudos have been earned by Maggie and her family!"
Marc Morial, President and CEO, National Urban League
"Any serious attempt to close the racial wealth gap and build Black American wealth, must better leverage the trillion dollars of buying power controlled by the Black American consumer. In Our Black Year, Maggie Anderson offers a clear, cogent and intensely personal view of one family's journey to do just this. An important book that provides a path for others to follow."
Publishers Weekly, November 14, 2011
"Dynamite subject…an effective probe into how African-Americans spend so much money that flows so overwhelmingly out of their community"
Library Journal
"Anderson's book successfully illuminates the roadblocks faced by black business owners and the racial divide that continues to persist in the U.S. economy."
BookPage
"
Our Black Year
is a blistering, honest journal of the Andersons' efforts to buy black, and those efforts can only be described as Herculean… A brisk call to action, offering clear-eyed perspective on how African Americans got to where they are today and what they can do to support black business owners. In Maggie Anderson's eyes, it's a moral imperative." 
Huntington News

"
Our Black Year
is an eye-opening book that should be read by anyone interested in the nation's racial and economic divide."
Dave Ross, daily commentator for the CBS Radio Network and former Democratic nominee for Congress
"Berezow and Campbell provide a convenient retelling of progressive excesses, reminding us that the real enemy of progress is the refusal even to entertain a sincerely-held opposing view. But with fundraising the lifeblood of all political groups, each side must manufacture an enemy, and lock themselves in a lucrative (but dysfunctional) embrace. The book concludes with practical compromises, and an appeal for all sides to embrace the scientific method, even when it challenges their orthodoxy."
or
Not Currently Available for Direct Purchase