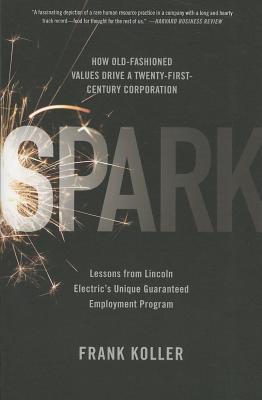 Spark
How Old-Fashioned Values Drive a Twenty-First-Century Corporation: Lessons from Lincoln Electric's U
Paperback

* Individual store prices may vary.
Description
Cleveland-based manufacturer Lincoln Electric has thrived for more than a century. It survived two World Wars, the Great Depression, the decline of industrial America, and the recent credit crash with impressive profits. While factories across the Midwest fired employees and shuttered their doors, Lincoln Electric fulfilled its promise of "Guaranteed Continuous Employment," a company pledge to avoid layoffs for economic reasons. By promoting loyalty, trust, and flexibility, Lincoln Electric has built a company of committed, hard-working employees and a reputation of excellence.
In this insightful and spirited investigation, journalist Frank Koller digs deep into Lincoln Electric's inner workings—revealing surprising lessons about what happens when managers view their employees as valued assets rather than costs.
Praise For Spark: How Old-Fashioned Values Drive a Twenty-First-Century Corporation: Lessons from Lincoln Electric's U…
Publishers Weekly
"A fascinating glimpse into this remarkable yet, in many ways, ordinary organization, which survives, even thrives, in a sunset industry where overseas outsourcing is the norm.... Instructive and heartening, this book offers a proven model for companies that not only want healthy bottom lines but also satisfied, dedicated employees"

Richard Freeman, Professor of Economics, Harvard University "In a time of recession, massive layoffs, and Wall Street bailouts, Spark tells the remarkable story of the better side of American capitalism: Lincoln Electric, the billion dollar manufacturer that succeeds by treating its employees the right way. This book should be required reading for everyone who wants to make the economy work for us all, from the President and his economic advisors to business leaders and employees everywhere."

Harvard Business Review
"A fascinating depiction of a rare human resource practice in a company with a long and hearty track record—food for thought for the rest of us."

Wall Street Journal
"Striking … against the backdrop of the layoff mania that has claimed more than eight million American jobs since late 2007."

Akron Beacon-Journal

Norman A. Berg, Professor of Business Administration, Harvard Business School
"Frank Koller has done a remarkable job of presenting both an economic and a moral argument for the value to society of the unusual policies followed with great success by Lincoln Electric for over a hundred years. The book is excellent in both the historical overview and the numerous interviews with current and past employees. There is much that modern management can learn about the benefits to employees, customers, shareholders, and communities by examining the role of the 'old fashioned' culture of Lincoln Electric."

Thomas A. Kochan, George M. Bunker Professor of Management and Co-Director, MIT Institute for Work and Employment Research
"A timely book, well researched and well written. Business, labor, and government leaders would do well to read Spark as they search for more equitable and sustainable principles for rebuilding trust in management, and getting compensation once again growing in tandem with productivity and profits."


PublicAffairs, 9781610390538, 272pp.
Publication Date: August 2, 2011
About the Author
Frank Koller covers the workplace for the Canadian Broadcasting Corporation. Over a twenty-seven-year career with CBC, he has worked and lived around the world as a foreign correspondent, including seven years in the United States. He holds a Master's Degree in Engineering from the Massachusetts Institute of Technology. He lives in Ottawa.