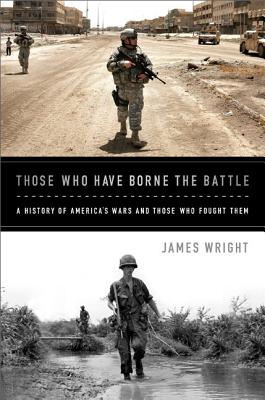 Those Who Have Borne the Battle (Hardcover)
A History of America's Wars and Those Who Fought Them
PublicAffairs, 9781610390729, 368pp.
Publication Date: May 1, 2012
Other Editions of This Title:
Paperback (5/7/2013)
* Individual store prices may vary.
Description
At the heart of the story of America's wars are our "citizen soldiers"—those hometown heroes who fought and sacrificed from Bunker Hill at Charlestown to Pointe du Hoc in Normandy, and beyond, without expectation of recognition or recompense. Americans like to think that the service of its citizen volunteers is, and always has been, of momentous importance in our politics and society. But though this has made for good storytelling, the reality of America's relationship to its veterans is far more complex. In Those Who Have Borne the Battle, historian and marine veteran James Wright tells the story of the long, often troubled relationship between America and those who have defended her—from the Revolutionary War to today—shedding new light both on our history and on the issues our country and its armed forces face today. From the beginning, American gratitude to its warriors was not a given. Prior to World War II, the prevailing view was that, as citizen soldiers, the service of its young men was the price of citizenship in a free society. Even Revolutionary War veterans were affectionately, but only temporarily, embraced, as the new nation and its citizens had much else to do. In time, the celebration of the nation's heroes became an important part of our culture, building to the response to World War II, where warriors were celebrated and new government programs provided support for veterans. The greater transformation came in the wars after World War II, as the way we mobilize for war, fight our wars, and honor those who serve has changed in drastic and troubling ways. Unclear and changing military objectives have made our actions harder for civilians to stand behind, a situation compounded by the fact that the armed forces have become less representative of American society as a whole. Few citizens join in the sacrifice that war demands. The support systems seem less and less capable of handling the increasing number of wounded warriors returning from our numerous and bewildering conflicts abroad.            A masterful work of history, Those Who Have Borne the Battle expertly relates the burdens carried by veterans dating back to the Revolution, as well as those fighting today's wars. And it challenges Americans to do better for those who serve and sacrifice today.
About the Author
The son of a World War II veteran, James Wright joined the marines at age seventeen and served for three years, primarily with the First Marine Brigade in Hawaii and Japan. He earned a PhD at the University of Wisconsin, Madison, became a history professor at Dartmouth College in 1969, and served as president of Dartmouth from 1998 to 2009. Since 2005 he has visited military hospitals over two dozen times and has worked to establish educational counseling programs for wounded veterans, efforts featured in the New York Times, Boston Globe, Christian Science Monitor, National Public Radio, ABC World News, and VFW Magazine, and recognized by educational, veteran, and service organizations. He and his wife, Susan, live in New Hampshire.
Praise For Those Who Have Borne the Battle: A History of America's Wars and Those Who Fought Them…
Dr. John Nagl, Minerva Professor at the U.S. Naval Academy and retired Army officer
"Former Marine and Dartmouth President Jim Wright has written a concise military history of the United States with a focus on the veterans of our wars.  It is empathetic, informed by his personal knowledge of the sacrifices and joys of military service, and deeply compelling.  I know of no more ambitious work on how our nation cares for those who have borne the burden of her battles, nor one that achieves its goals so well.  In this time of too many wars, it should be read by every American."
Richard H. Kohn, Professor Emeritus of History and Peace, War, and Defense, UNC-Chapel Hill, and Chief of Air Force History for the USAF, 1981-1991
"In this unflinchingly honest portrait of the American military experience, James Wright explains how our recent wars have differed from those of earlier times. Informed by a tour in the Marines, a lifetime devoted to educating the country's youth, and more recently, repeated visits to wounded vets, this important book talks sense to the American people about our wars and their consequences.  Engaging, wise, and filled with keen insights for all Americans, their military and political leaders in particular."
Paul Rieckhoff, Founder and Executive Director of Iraq and Afghanistan Veterans of America
"Finally – a comprehensive book chronicling the journey of the American veteran. From the camps of Valley Forge to the beachfronts of Normandy to the sands of Iraq, James Wright weaves together a full history that is both engaging and alive. Some were citizen soldiers. Some were draftees. Some were volunteers. But they all served their country when called upon. Wright's book is required reading for anyone who wants to understand the wars and warriors of our past – and perhaps the wars and warriors of our future."
Kirkus Reviews
"A thoughtful account of how America treats its soldiers…An astute view of America's enthusiastic but often-unrealistic attitude toward those who fight its wars."
New York Times Book Review
"The familiar narrative of the American military experience traces the long, occasionally glorious, always bloody monarchy from Lexington and Concord to Iraq and Afghanistan.
Those Who Have Borne the Battle
amends that account by adding two subjects of acute contemporary relevance: how the United States has raised the forces with which it wages war; and how, in the aftermath of battle, it cares for and remembers those who fought."
Military Times
"Eloquent and evocative."
The VVA Veteran
"Offering much more than a dry retelling of America's wars, Wright's book allows readers to follow the evolution of important trends in American warfare and to easily pick up and trace the author's line of reasoning."

TIME Magazine
"A must in any American military buff's library."
or
Not Currently Available for Direct Purchase