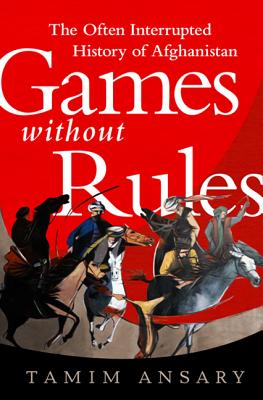 Games Without Rules (Hardcover)
The Often-Interrupted History of Afghanistan
PublicAffairs, 9781610390941, 416pp.
Publication Date: November 27, 2012
Other Editions of This Title:
Digital Audiobook (11/26/2012)
Paperback (3/4/2014)
Compact Disc (11/27/2012)
Other (2/1/2013)
MP3 CD (11/27/2012)
Compact Disc (11/27/2012)
* Individual store prices may vary.
Description
Today, most Westerners still see the war in Afghanistan as a contest between democracy and Islamist fanaticism. That war is real; but it sits atop an older struggle, between Kabul and the countryside, between order and chaos, between a modernist impulse to join the world and the pull of an older Afghanistan: a tribal universe of village republics permeated by Islam.

Now, Tamim Ansary draws on his Afghan background, Muslim roots, and Western and Afghan sources to explain history from the inside out, and to illuminate the long, internal struggle that the outside world has never fully understood. It is the story of a nation struggling to take form, a nation undermined by its own demons while, every 40 to 60 years, a great power crashes in and disrupts whatever progress has been made. Told in conversational, storytelling style, and focusing on key events and personalities, "Games without Rules" provides revelatory insight into a country at the center of political debate.

About the Author
Tamim Ansary is the author of Destiny Disrupted: A History of the World through Islamic Eyes and West of Kabul, East of New York, among other books. For ten years he wrote a monthly column for Encarta.com, and has published essays and commentary in the San Francisco Chronicle, Salon, Alternet, TomPaine.com, Edutopia, Parade, Los Angeles Times, and elsewhere. Born in Afghanistan in 1948, he moved to the U.S. in 1964. He lives in San Francisco, where he is director of the San Francisco Writers Workshop.
Praise For Games Without Rules: The Often-Interrupted History of Afghanistan…
Rajiv Chandrasekaran, author of Little America: The War Within the War for Afghanistan"In Games Without Rules, Tamim Ansary has written the most engaging, accessible and insightful history of Afghanistan. With gifted prose and revealing details, Ansary gives us the oft-neglected Afghan perspective of the wars, foreign meddling and palace intrigue that has defined the past few centuries between the Indus and Oxus. This brilliant book should be required reading for anyone involved in the current war there -- and anyone who wants to understand why Afghanistan will not be at peace anytime soon."

Kirkus
"A breezy, accessible overview of centuries of messy Afghan history, including the present military quagmire…. As a native of Kabul, Ansary lends precious insight into the makeup of the typical Afghan village, with its tidy, self-sufficient, patriarchal hierarchy and need to keep the nomads at bay… Lively instruction on how Afghanistan has coped, and continues to cope, with being a strategic flash point."
or
Not Currently Available for Direct Purchase