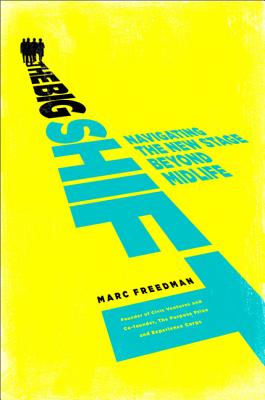 The Big Shift: Navigating the New Stage Beyond Midlife (Paperback)
Navigating the New Stage Beyond Midlife
PublicAffairs, 9781610390996, 244pp.
Publication Date: March 20, 2012
Description
Marc Freedman, hailed by the New York Times as "the voice of aging baby boomers seeking] meaningful and sustaining work later in life," offers a recipe for how we can transform America's coming midlife crisis into a midlife opportunity. Millions of people in their fifties, sixties, and seventies are searching for answers to the question "What's next?" and are navigating their way to an entirely new stage of life and work, one that could last as long as midlife. Shifting to a much longer lifespan isn't as easy as it may seem. Unlike the transition from adolescence to adulthood, managing this process for many is a do-it-yourself project. Drawing on powerful personal stories, The Big Shift provides not only direction but a vision of what it would take to help millions find their footing in a new map of life.
About the Author
Marc Freedman is founder and CEO of Civic Ventures. An award-winning social entrepreneur, frequent commentator in the national media, and the author of Encore, Prime Time, and The Kindness of Strangers, Freedman spearheaded the creation of Experience Corps and The Purpose Prize. He lives in San Francisco with his family.
Advertisement