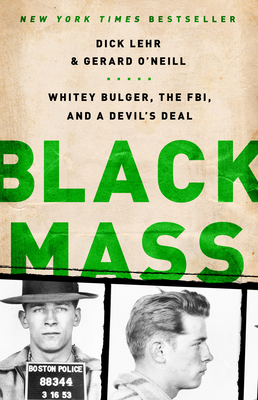 Black Mass (Paperback)
Whitey Bulger, the FBI, and a Devil's Deal
PublicAffairs, 9781610391092, 448pp.
Publication Date: May 22, 2012
Other Editions of This Title:
Digital Audiobook (12/6/2012)
Compact Disc (9/8/2015)
Paperback (8/4/2015)
Paperback (6/1/2001)
* Individual store prices may vary.
Description
When the FBI turned an Irish mobster into an informant, they corrupted the entire judicial system and sanctioned the worst crime spree Boston has ever seen. This is the true story behind the major motion picture.

James "Whitey" Bulger became one of the most ruthless gangsters in US history, and all because of an unholy deal he made with a childhood friend. John Connolly a rising star in the Boston FBI office, offered Bulger protection in return for helping the Feds eliminate Boston's Italian mafia. But no one offered Boston protection from Whitey Bulger, who, in a blizzard of gangland killings, took over the city's drug trade. Whitey's deal with Connolly's FBI spiraled out of control to become the biggest informant scandal in FBI history.

Black Mass is a New York Times and Boston Globe bestseller, written by two former reporters who were on the case from the beginning. It is an epic story of violence, double-cross, and corruption at the center of which are the black hearts of two old friends whose lives unfolded in the darkness of permanent midnight.

About the Author
Dick Lehr and Gerard O'Neill are former reporters with the Boston Globe, and co-authors of Whitey: The Life of America's Most Notorious Mob Boss. O'Neill has won the Pulitzer, Hancock and Loeb Prizes. Lehr, a Pulitzer finalist, has also won the Hancock and Loeb awards. He currently is a professor of journalism at Boston University, where he is a codirector of an investigative reporting clinic.
Praise For Black Mass: Whitey Bulger, the FBI, and a Devil's Deal…
"Black Mass should prompt a reevaluation of the uses and misuses of informers by law enforcement officials throughout the country."—New York Times Book Review



"[Shows] how fragile FBI integrity can be when the good guys lose sight of [the] truth, the rules, and the law."
—Washington Post Book World

"[A] jaw-dropping, true-life tale of how two thugs corrupted the FBI."

—Baltimore Sun

"Bone-chilling . . . one of the best nonfiction reads of the year . . . a powerhouse of a book. Dick Lehr and Gerard O'Neill . . . write like veteran novelists, weaving scene after jaw-dropping scene into a tapestry of sickening American corruption."
—New York Post