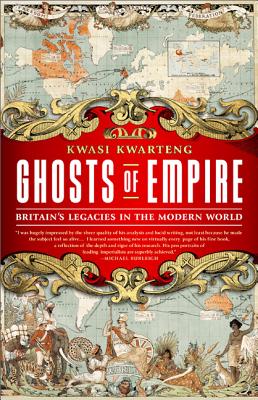 Ghosts of Empire: Britain's Legacies in the Modern World (Hardcover)
Britain's Legacies in the Modern World
PublicAffairs, 9781610391207, 466pp.
Publication Date: February 7, 2012
* Individual store prices may vary.
or
Not Currently Available for Direct Purchase
Description
Kwasi Kwarteng is the child of parents whose lives were shaped as subjects of the British Empire, first in their native Ghana, then as British immigrants. He brings a unique perspective and impeccable academic credentials to a narrative history of the British Empire, one that avoids sweeping judgmental condemnation and instead sees the Empire for what it was: a series of local fiefdoms administered in varying degrees of competence or brutality by a cast of characters as outsized and eccentric as anything conjured by Gilbert and Sullivan.
The truth, as Kwarteng reveals, is that there was no such thing as a model for imperial administration; instead, appointees were schooled in quirky, independent-minded individuality. As a result the Empire was the product not of a grand idea but of often chaotic individual improvisation. The idosyncracies of viceroys and soldier-diplomats who ran the colonial enterprise continues to impact the world, from Kashmir to Sudan, Baghdad to Hong Kong.
About the Author
Kwasi Kwarteng was born in London to Ghanaian parents in 1975. He was educated at Trinity College, Cambridge, where he won one of the University Classical Scholarships and graduated with a double first in Classics and History; and at Harvard University, where he spent a year as a Kennedy Scholar. He returned to Cambridge to complete a Ph.D in History, before working as an analyst for a hedge fund in London. He was recently elected as a Conservative Member of Parliament.
Praise For Ghosts of Empire: Britain's Legacies in the Modern World…
Indian Express, September 11, 2011
"[Kwarteng's] book is still a reminder that a superpower's legacy of intervention will be determined by outcomes that obtain after its eventual retreat."
Publishers Weekly
October 3, 2011
"[An] expertly researched and written book" 
Kirkus, November 2011

"[A] fascinating debut…Kwarteng effectively illustrates the effects of empire in a forceful and thorough book that holds important lessons for today's leaders—in particular that the cost of invading and occupying a country always exceeds expectations." 
Business Day (Nigeria)
"[Ghosts of Empire is] one of several books that currently reappraising what might seem a tired old subject, but in the present strange mood now prevalent, it is worth more examination … Kwarteng's book is a useful reminder that Britain's empire left many uncomfortable legacies on which the author focuses attention".
John Spurling, The New Republic
"This is an absorbing, richly researched book, smoothly written with a light touch, and suggests, if its gifted Ghanaian/British author is anything to go by, that the Empire at least got something right."
Andrew Roberts, Wall Street Journal
"Mr. Kwarteng is an engaging writer, and his pen portraits of British imperialists are subtle and scholarly."
Thomas Wise, Daily Beast
"While trained as a historian at Cambridge, Kwarteng is no ivory-tower dweller, but rather a man who believes in the power of history to inform, inspire, and challenge the present.. Using case studies from six different regions of the British Empire—Iraq, Kashmir, Burma, Sudan, Nigeria, and Hong Kong—he illustrates the ad hoc, ill-informed, incoherent, and frequently contradictory nature of British imperial rule."
DBC Reads
"There is a lot to learn from Kwasi Kwarteng's Ghosts of Empire. The text itself serves as a wonderful example of a historical work that can be palatable for the masses without sacrificing academic rigor or scholarship—exhaustive in detail and citation, but written in plain language. On a political-slash-historical level, Ghosts of Empire is proof of a certain self-awareness on the other side of the pond that will hopefully make its way over soon: the citizenry's understanding of their country's past mistakes, acknowledged without fear of public admonishment."
New York Times Book Review
"Kwasi Kwarteng, in this fine book, argues that the empire granted far too much authority to the wrong people…'Ghosts of Empire' explores six cases where this impact was felt: Iraq, Nigeria, Sudan, Hong Kong, Kashmir and Burma. This is a list without many success stories, and Kwarteng, who is a Conservative member of Parliament with Ghanaian parents and who claims to want to transcend 'sterile' debates about the empire, ends up making a damning case…. Kwarteng is critical but not patronizing, allowing the reader to grasp the motivations of the British while simultaneously seeing the shortcomings of their decisions." 
CHOICE
"At once decidedly traditional, focusing on high politics and personality at the expense of structural analysis or much attention to colonial societies themselves, and remarkably fresh, touring the empire's byways and comparative backwaters rather than the more familiar terrain of the Raj and southern Africa…The writing is clear, Kwarteng has a particular talent for pen portraits, and he largely steers clear of imperial nostalgia." 
Shepherd Express
"A thought-provoking and plausible appraisal. One could add that [Kwarteng] is a legacy of the British Empire."
Washington Independent Review of Books
"His engaging narrative is punctuated by vivid pen portraits of an extraordinary cast of characters, ranging from imperial officials like Herbert Kitchener and Gertrude Bell to indigenous figures like Hari Singh and Aung San. Above all, Ghosts of Empire provides a highly readable reminder that many of the contemporary world's troubles spots have deeper historical roots that derive more directly from British imperial intervention than some of us might suppose and others might acknowledge."

Military Review
"Provides a fresh perspective that reminds us of our shared history and parallel paths… As strategic thinkers increasingly suggest that we are compelled to global action with a 'responsibility to protect' the embattled populations of the world,
Ghosts of Empire
serves as a stark reminder of the lessons of the past…
Ghosts of Empire
is not just a great read, engaging readers from beginning to end.   It is a thought-provoking historical study with startling modern implications that will prove informative for any student of imperial history."
Advertisement