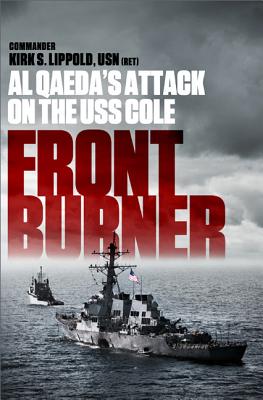 Front Burner (Hardcover)
Al Qaeda's Attack on the USS Cole
PublicAffairs, 9781610391245, 362pp.
Publication Date: April 10, 2012
Other Editions of This Title:
Paperback (4/9/2013)
* Individual store prices may vary.
Description
The former Commander of the USS Cole tells the full story of the deadly terrorist attack on his ship and its frustrating, fateful aftermath
About the Author
Commander Kirk Lippold was the commanding officer of the USS Cole during Al Qaeda's attack in October 2000. Lippold's personal awards include the Defense Superior Service Medal, Legion of Merit, Meritorious Service Medal, and Combat Action Ribbon, among others. He retired from the Navy in 2007 and remains active in current events and national security affairs. He lives in Carson City, Nevada.
Praise For Front Burner: Al Qaeda's Attack on the USS Cole…
William J. Perry, 19th Secretary of Defense
"Front Burner is a personal story of loss, and pain - but it is also a story of courage, determination, respect, honor, and integrity that each and every man and woman on the USS Cole demonstrated that day, on September 11, 2001 and indeed today. This book and the story of the men and women that it recounts is an inspiration."
Kirkus Reviews
"Lippold delivers a personal, opinionated account of the last outrage before 9/11 which should have galvanized our leaders but didn't."
Norfolk Virginian-Pilot
"Compelling and poignant… [Lippold] ends his main narrative on a high note, writing, 'The crew of USS Cole saved their ship and their shipmates. All of them are my heroes.' Reading this book or passing the somber Cole memorial at Norfolk Naval Station, one can feel only that they are our heroes as well."
Huntington News"Front Burner" is an important work of military history and stands as an essential recounting of a critical moment in America's battle against Al Qaeda." History Net"An earnestly told tale of bravery and determination. It provides gripping detail about the Cole attack—much of it not previously revealed—as well as its grisly aftermath… It opens a pre-9/11 window into the government's failure to share intelligence with those most in need of it.  Lippold saves his most generous words for his crew's magnificent performance in casualty assistance and damage control during the days following the attack, when the flooding of two of the ship's engine rooms threatened to sink it. His pride in the crew's performance is palpable."
or
Not Currently Available for Direct Purchase