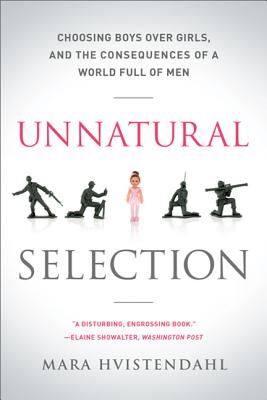 Unnatural Selection
Choosing Boys Over Girls, and the Consequences of a World Full of Men
Paperback

* Individual store prices may vary.
Description
Finalist for the Pulitzer Prize

A Slate Best Book of 2011

A Discover Magazine Best Book of 2011

Lianyungang, a booming port city, has China's most extreme gender ratio for children under four: 163 boys for every 100 girls. These numbers don't seem terribly grim, but in ten years, the skewed sex ratio will pose a colossal challenge. By the time those children reach adulthood, their generation will have twenty-four million more men than women.

The prognosis for China's neighbors is no less bleak: Asia now has 163 million females "missing" from its population. Gender imbalance reaches far beyond Asia, affecting Georgia, Eastern Europe, and cities in the U.S. where there are significant immigrant populations. The world, therefore, is becoming increasingly male, and this mismatch is likely to create profound social upheaval.

Historically, eras in which there have been an excess of men have produced periods of violent conflict and instability. Mara Hvistendahl has written a stunning, impeccably-researched book that does not flinch from examining not only the consequences of the misbegotten policies of sex selection but Western complicity with them.
Praise For Unnatural Selection: Choosing Boys Over Girls, and the Consequences of a World Full of Men…
"
Unnatural Selection
is an important book and a fascinating read. Mara Hvistendahl is a delightful writer: witty, engaging, and acute. But the tale she tells is deeply disturbing. Asia alone is missing 160 million women and girls, a number equal  to the entire female population of the United States. According to Hvistendahl, the culprit is less deeply rooted cultural gender bias than rising wealth, elite attitudes, and Western influence and technology. Development, at least for the coming decades, will produce not only fewer children overall, but also many fewer girls. The result is a future for many parts of the world, from India to China, Azerbaijan to Albania, where brides are much more likely to be bought, women are much more likely to be trafficked, and men are much more likely to be frustrated. For the present, women who are pro-choice must confront the stark reality that the availability of ultrasound and ready abortion are sharply reducing the number of women in the world."
Stephen J. Dubner, author of Freakonomics and SuperFreakonomics

"Hvistendahl has a keen sense of detail, and her book is filled with lively encounters with the doctors, academics and bachelors who, she argues, all play a part in the changing demographics worldwide. Her research only gains in importance as these imbalanced generations, where men outnumber women by as much."

Globe and Mail, July 1, 2011

"Brave, well researched and imminently controversial…. From the distant vista of the West, where we don't really consider what it would mean to have an only son who can never find a mate, the unbalanced sex ratio in Asia may seem like relatively small news. This remarkable book goes a long way to bringing the pain and the urgency of the issue home. Mara Hvistendahl is not just entering an important conversation, she's starting one." the dogged self-destruction of a braggadocio crippled by the conviction of his own superiority."
Washington Post, July 3, 2011

"Massively well-documented…. [Hvistendahl] has written a disturbing, engrossing book."
Evening Standard (UK), July 21, 2011


"A well-researched account of how a preference for boys has made sex selective abortion commonplace in Asia and parts of Eastern Europe… Hvistendahl makes a persuasive case for the West being complicit in the spread of sex-selective abortion."
"Yes, it's a rigorous exploration of the world's 'missing women,' but it's more than that too: an extraordinarily vivid look at the implications of the problem. Hvistendahl writes beautifully, with an eye for detail but also the big picture. She has a fierce intelligence but, more important, a fierce intellectual independence; she writes with a hard edge but no venom – rather, a cool and hard passion."
Jonah Lehrer, author of How We Decide

"A fascinating and thoroughly researched book on a most important subject. The staggering population imbalances described by Hvistendahl should be of concern to all."
Judy Norsigian, Executive Director, Our Bodies Ourselves

"A critically important story of demographic surprises and skewed sex ratios, trafficked wives and mail-order brides. Thanks to the devaluation of females and misused technologies, sex selection has reached staggering dimensions in recent decades. Hvistendahl's call to action is the most well-documented and compelling yet."
The Wall Street Journal
,
June, 18, 2011
"Ms. Hvistendahl is a first-rate reporter and has filled
Unnatural Selection
with gripping details…. There is so much to recommend." 
Bloomberg, June 19, 2011
"Provocative, wide-ranging…. A thoughtful, smartly researched overview of medical developments, policymaking and cultural trends that combined to upset the global sex ratio." 
The Daily Beast, Eleanor Clift, June 22, 2011


"[Hvistendahl] approaches these sensitive subjects without an ideological ax to grind, whether pro-life or pro-population control, documenting how sex selection has taken hold thanks to technology, lower birth rates, and deep-seated cultural biases that require a boy to carry on a family's lineage."
New York Times, Ross Douthat, June 26, 2011

"Unnatural Selection reads like a great historical detective story, and it's written with the sense of moral urgency that usually accompanies the revelation of some kind of enormous crime."
Marcy Darnovsky "Ms. Blog", June 7, 2011
"An important contribution, disturbing but gripping, and challenging to all of us, perhaps especially to U.S. advocates of reproductive justice. It provides both a deep understanding of the staggering dimensions and consequences of sex selection, and an urgent prod to confront it." 
The Daily Brief, June 12, 2011


Kirkus Review, April 15, 2011

"A hard-hitting, eye-opening study that not only paints a dire future of a world without girls but traces the West's role in propagating sex selection…. Hvistendahl's important, even-handed exposé considers all sides of the argument and deserves careful attention and study."
Anne-Marie Slaughter, Bert G. Kerstetter University Professor of Politics and International Affairs, Princeton University


PublicAffairs, 9781610391511, 336pp.
Publication Date: May 1, 2012
About the Author
Mara Hvistendahl's writing has appeared in Harper's, the New Republic, Scientific American, the Financial Times magazine, Popular Science, Foreign Policy, and the Los Angeles Times. A correspondent for the Chronicle of Higher Education and former contributing editor at Seed magazine, Mara has won an Education Writers Association award and been nominated for the Newswomen's Club of New York Front Page Award. She first lived in Asia over a decade ago, when her studies took her to Beijing. She has spent half of the years since then in China, a base from which she reported extensively from around the continent.
or
Not Currently Available for Direct Purchase