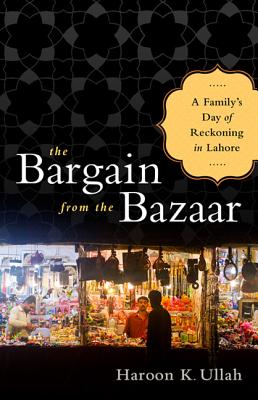 The Bargain from the Bazaar
A Family's Day of Reckoning in Lahore
Hardcover

* Individual store prices may vary.
Other Editions of This Title:
Paperback (3/11/2014)
Description
Awais Reza is a shopkeeper in Lahore's Anarkali Bazaar -- the largest open market in South Asia -- whose labyrinthine streets teem with shoppers, rickshaws, and cacophonous music.

But Anarkali's exuberant hubbub cannot conceal the fact that Pakistan is a country at the edge of a precipice. In recent years, the easy sociability that had once made up this vibrant community has been replaced with doubt and fear. Old-timers like Awais, who inherited his shop from his father and hopes one day to pass it on to his son, are being shouldered aside by easy money, discount stores, heroin peddlers, and the tyranny of fundamentalists.

Every night before Awais goes to bed, he plugs in his cell phone and hopes. He hopes that the city will not be plunged into a blackout, that the night will remain calm, that the following morning will bring affluent and happy customers to his shop and, most of all, that his three sons will safely return home. Each of the boys, though, has a very different vision of their, and Pakistan's, future.

The Bargain from the Bazaar -- the product of eight years of field research -- is an intimate window onto ordinary middle-class lives caught in the maelstrom of a nation falling to pieces. It's an absolutely compelling portrait of a family at risk -- from a violently changing world on the outside and a growing terror from within.
Praise For The Bargain from the Bazaar: A Family's Day of Reckoning in Lahore…
"The real bargain in this book is the view it provides of a human Pakistan behind the headline news. The engaging story of Awais and his merchant family brings us face to face with real people enmeshed in the counter currents of a tumultuous history, one they keep trying tos shape to meet their needs." —
Michael Wolfe, author of One Thousand Roads to Mecca and Taking Back Islam
"Pakistan is a country that will remain critically important to US policy makers for decades to come and yet it is a country about which most Americans remain woefully uneducated…..Mr. Ullah's desire to shine a light on Pakistan' s middle class in a city like Lahore is an admirable one."—
Wall Street Journal
"The book reads like a novel—whose rich dialogue, colorful characters, and vivid descriptions of Lahore blend seamlessly with historical context to offer glimpses of a Pakistan we rarely see."—
Mother Jones
"The Bargain From the Bazaar…introduces readers to an entirely different side of the Pakistani people…[it] is a compilation of eight years of research in Pakistan interviewing the country's middle-class business owners, lower-class shopkeepers, officials and politicians. [Ullah] even interviewed key people involved with the Taliban, al-Qaeda and Haqqani."—
Tri-City Herald
"Ullah intimately examines the effects of America's War on Terror on the everyday people of Pakistan through the story of one family living and working in Lahore….Using a sharp journalistic eye, Ullah brings the bustle of Lahore and its market to life. He manages to quietly convey America's role in the conditions facing this long-troubled country without becoming preachy or needlessly partisan. Ullah is more interested in the common Pakistani experience and he makes these moments shine…These instances powerfully demystify Pakistan for western audiences."——
Publishers Weekly starred review
"[A] highly readable narrative….Ullah's straightforward depiction of bravery, love, and hard and illuminating truths about contemporary Pakistan—a shaky nation that might just hold "the key to victory over the superpowers of terror"—makes this an excellent book-club choice." ——
Booklist
"Haroon Ullah has crafted a masterful story that epitomises the ideological tussle of modern Pakistan. Through the eyes of a middle-class family in Lahore, Ullah captures the everyday struggles between families and generations, set against the background of a crumbling state. In a vivid portrayal of Pakistani life, Ullah's story weighs the human quest for identity against the deepest divisions in the nation's social, economic and political order.
Ullah's novel is haunting and gripping. His descriptions of Pakistan's tumultuous governance befit an accomplished scholar and native son. A must-read for any hoping to understand the depth of divisions in Pakistani culture—and the human cost of radicalization." —
Sajjad Karim, member of the European Parliament
"Haroon Ullah has vividly humanized the challenge Pakistan faces in the explosive mixture of religion and politics. Ullah brings to the expertise of a scholar with first-hand knowledge of the country and culture and the perspective on U.S. policy of a diplomat who was a member the late Richard Holbrooke's "AfPak" team. The result is authoritative, insightful, and timely." —
Strobe Talbott, President of the Brookings Institution
"
The Bargain from The Bazaar
is simply remarkable. There is no other way to describe it. Haroon Ullah's deep understanding of the South Asian culture and his masterful story telling makes this book a masterpiece. Through Haroon Ullah's vivid imagery, I was again transported back to the streets that I once frequented. I knew these people, I know these people. This book is a reminder of the struggles people face every day in that part of the world. Haroon Ullah has done an amazing job of telling their story. Bravo!" —
Faran Tahir, CEO of Javelin Media and Hollywood actor/star in Star Trek, Iron Man and Elysium
"In The Bargain Bazaar, Haroon Ullah delivers a moving portrait of a family struggling amidst the chaos of living in Pakistan. Ullah's rich storytelling brings the setting to life and helps to illuminate the country's complex history and politics. A wonderful debut from a promising young scholar."—
Jared Cohen, founder and director of Google Ideas and author of The New Digital Age: Reshaping the Future of People, Nations and Business
"A powerful story that fills a real void from one of the best young scholars and frontline diplomats in tumultuous South Asia." —
Parag Khanna, author ofThe Second World: Empires and Influence in the New Global Order
"
The Bargain from the Bazaar: A Family's Day of Reckoning in Lahore
is a refreshing perspective on the current political situation in Pakistan...it offers valuable insight into a country constantly on the news...while the public is inundated with notions like drones, Malala, and suicides attacks, few people have a grasp as to what they actually refer to, and more importantly how they shape the lives of average people, which makes
The Bargain from the Bazaar
timely and necessary reading.... The insights offered are useful to everyone, from Pakistan policy analysts to those simply seeking a good, human story of resilience."—
The International Examiner
"We finally have a senior Pakistani-American diplomat commenting on the explosive interaction between the state, democracy and religion in a Muslim country. And Haroon Ullah delivers. He offers an insightful and nuanced perspective that benefits from his deep knowledge and experience of the field. As nothing can be more important to the US than to build bridges with the Muslim world, this book is essential reading for anyone who wishes to understand a major Muslim country like Pakistan and the challenges it faces today." —
Ambassador Akbar Ahmed Ibn Khaldun Chair of Islamic Studies at American University, Washington, DC and former Pakistan High Commissioner to the United Kingdom.
"The Bargain from the Bazaar' is an epic novel of family life in contemporary Pakistan from a fresh, sure voice. I read this novel in one sitting and thoroughly enjoyed it."—
Eboo Patel, author Acts of Faith and Sacred Ground
"As a longtime scholar, diplomat, and writer on South Asia, Haroon Ullah understands the complexities of modern South Asia. In The Bargain from the Bazaar, he takes us back to the most romanticized corner of Lahore to show how generational change requires us to shift our focus in understanding modern Pakistan. Neither the lens of Partition nor tensions with India capture the country's profound internal transformations as it grasps for stability. This powerful and gripping account of a family struggle in the middle of chaos fills the void. A must-read for anyone." -Reza Aslan, author of No god but God and Zealot

"In The Bargain from The Bazaar, Haroon Ullah has narrated a fascinating portrait of a family set against the backdrop of Pakistan's history and politics. Malala and I both so enjoyed this stunning debut that brings to light so many of the issues that she has devoted her life to seeing exposed and resolved." —Ziauddin Yousafzai, father of Malala Yousafzai, best-selling author of I am Malala
PublicAffairs, 9781610391665, 256pp.
Publication Date: March 11, 2014
About the Author
Haroon K. Ullah is a scholar, diplomat, and field researcher specializing in South Asia and the Middle East. Born to South Asian parents, Haroon grew up in a farming community in Washington State and was trained at Harvard University's John F. Kennedy School of Government, where he served as a senior fellow and completed his MPA. He was a William J. Fulbright fellow, a Harvard University presidential scholar, a National Security Education Program fellow, and a Woodrow Wilson Public Service fellow. He is also the author of Vying for Allah's Vote.