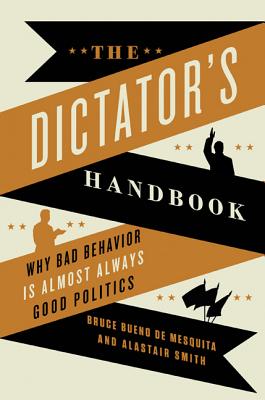 The Dictator's Handbook
Why Bad Behavior is Almost Always Good Politics
Paperback

* Individual store prices may vary.
Other Editions of This Title:
Digital Audiobook (6/20/2022)
Paperback (4/26/2022)
Compact Disc (6/21/2022)
Description
A groundbreaking new theory of the real rules of politics: leaders do whatever keeps them in power, regardless of the national interest.
As featured on the viral video Rules for Rulers, which has been viewed over 3 million times.
Bruce Bueno de Mesquita and Alastair Smith's canonical book on political science turned conventional wisdom on its head. They started from a single assertion: Leaders do whatever keeps them in power. They don't care about the "national interest"-or even their subjects-unless they have to.
This clever and accessible book shows that democracy is essentially just a convenient fiction. Governments do not differ in kind but only in the number of essential supporters, or backs that need scratching. The size of this group determines almost everything about politics: what leaders can get away with, and the quality of life or misery under them. The picture the authors paint is not pretty. But it just may be the truth, which is a good starting point for anyone seeking to improve human governance.
Praise For The Dictator's Handbook: Why Bad Behavior is Almost Always Good Politics…
Simply the best book on politics written.... Every citizen should read this book.—CGP Grey

A lucidly written, shrewdly argued meditation on how democrats and dictators preserve political authority...Bueno de Mesquita and Smith are polymathic, drawing on economics, history, and political science to make their points...The reader will be hard-pressed to find a single government that doesn't largely operate according to Messrs. Bueno de Mesquita and Smith's model. So the next time a hand-wringing politician, Democrat or Republican, claims to be taking a position for the 'good of his country,'remember to replace the word 'country' with 'career.'—Wall Street Journal

Machiavelli's The Prince has a new rival. It's The Dictator's Handbook by Bruce Bueno de Mesquita and Alastair Smith.... This is a fantastically thought-provoking read. I found myself not wanting to agree but actually, for the most part, being convinced that the cynical analysis is the true one.—Enlightenment Economics

In
this fascinating book Bueno de Mesquita and Smith spin out their view of governance:
that all successful leaders, dictators and democrats, can best be understood as
almost entirely driven by their own political survival-a view they characterize
as 'cynical, but we fear accurate.' Yet as we follow the authors through
their brilliant historical assessments of leaders' choices-from Caesar to
Tammany Hall and the Green Bay Packers-we gradually realize that their brand of
cynicism yields extremely realistic guidance about spreading the rule of law,
decent government, and democracy. James Madison would have loved this
book.—R. James Woolsey Director of Central Intelligence, 1993-1995, and Chairman, Foundation for Defense of Democracies

In this book, Bruce Bueno de Mesquita and Alastair Smith teach us to see dictatorship as just another form of politics, and from this perspective they deepen our understanding of all political systems.—Roger Myerson, Glen A. Lloyd Distinguished Service Professor of Economics at the University of Chicago
PublicAffairs, 9781610391849, 352pp.
Publication Date: July 31, 2012
About the Author
Bruce Bueno de Mesquita is the Julius Silver Professor of Politics and director of the Alexander Hamilton Center for Political Economy at New York University. He is the author of sixteen books, including The Predictioneer's Game.

Alastair Smith is professor of politics at New York University. The recipient of three grants from the National Science Foundation and author of three books, he was chosen as the 2005 Karl Deutsch Award winner, given biennially to the best international relations scholar under the age of forty. They are also the authors of The Spoils of War: Greed, Power, and the Conflicts That Made Our Greatest Presidents.
or
Not Currently Available for Direct Purchase