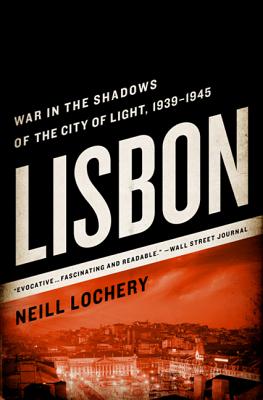 Lisbon
War in the Shadows of the City of Light, 1939-1945
Paperback

* Individual store prices may vary.
Other Editions of This Title:
Digital Audiobook (10/31/2011)
Hardcover (11/1/2011)
Audio Cassette (11/1/2011)
MP3 CD (11/1/2011)
Compact Disc (11/1/2011)
Compact Disc (11/1/2011)
Description
Lisbon had a pivotal role in the history of World War II, though not a gun was fired there. The only European city in which both the Allies and the Axis power operated openly, it was temporary home to much of Europe's exiled royalty, over one million refugees seeking passage to the U.S., and a host of spies, secret police, captains of industry, bankers, prominent Jews, writers and artists, escaped POWs, and black marketeers. An operations officer writing in 1944 described the daily scene at Lisbon's airport as being like the movie "Casablanca," times twenty.

In this riveting narrative, renowned historian Neill Lochery draws on his relationships with high-level Portuguese contacts, access to records recently uncovered from Portuguese secret police and banking archives, and other unpublished documents to offer a revelatory portrait of the War's back stage. And he tells the story of how Portugal, a relatively poor European country trying frantically to remain neutral amidst extraordinary pressures, survived the war not only physically intact but significantly wealthier. The country's emergence as a prosperous European Union nation would be financed in part, it turns out, by a cache of Nazi gold.
Praise For Lisbon: War in the Shadows of the City of Light, 1939-1945…
"'Lisbon' is a valuable source of information about an astonishing time and place." 
Columbia Daily News
featured in roundup of history books: "A fascinating account of one of the back stages of the War. Lisbon was a hotbed of intrigue and espionage while remaining neutral as the world fought around it."\ 
Macleans
"Like
Casablanca,
only 20 times more."

Express Milwaukee
"Fascinating." 
The Scotsman, four-star review
"Intrigue, betrayal, opportunism and double dealing' Lochery promises us – and his engrossing book delivers all those things and more."
Literary Review
"The twists and turns of Salazar's tight-rope diplomacy form the central thread of Neill Lochery's impressive account of wartime Lisbon and its leader... The personalities, plots and counterplots within that tale are absorbing... The book's principal worth lies in its illumination of Salazar, who emerges from Lochery's pages as a fascinating, tireless and single-minded figure."
Jill Jolliffe,
Publishers Weekly
"Lochery tells the gripping story of the city known as 'Casablanca II'…engrossing and rewarding." 
Booklist, September 20, 2011
"Lochery recounts wartime happenings in the Portuguese capital of Lisbon, where the Allies and the Axis conducted the war through espionage, propaganda, and diplomatic pressure on Salazar to relinquish Portugal's neutrality. A cloak-and-dagger atmosphere accordingly suffuses Lochery's account…. A productive archival sleuth, [he] makes original contributions to the literature of neutrality in WWII." 
Shelf Awareness
"A lively, accessible and hair-raising history revealing every sordid detail of Lisbon during World War II--a time and place that many have chosen to forget in order to save face." 
Wall Street Journal
"Evocative…. [Lochery] skillfully documents the experiences of the rich and glamorous as well as the less fortunate and even sinister of the city's war time arrivals… Distilling an enormous quantity of research, he has rendered a fascinating and readable account of this small country's role in World War II, protected, as it was, by its wily champion." 
Seattle Times
PublicAffairs, 9781610391887, 344pp.
Publication Date: October 30, 2012
About the Author
Neill Lochery, PhD, is a world-renowned source on Israel, the Middle East, and Mediterranean history. He is the author of five books and countless newspaper and magazine articles. He regularly appears on television in the UK, the USA, and the Middle East. He is currently based at University College London and regularly gives talks in the UK, Europe, the Middle East, and North America.
or
Not Currently Available for Direct Purchase