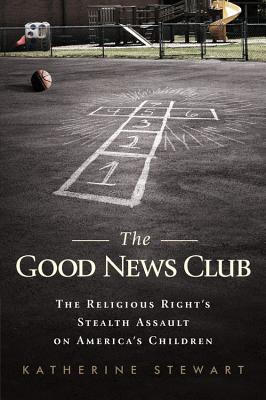 The Good News Club (Paperback)
The Religious Right's Stealth Assault on America's Children
PublicAffairs, 9781610392198, 304pp.
Publication Date: July 18, 2017
Other Editions of This Title:
Hardcover (1/24/2012)
* Individual store prices may vary.
Description
In 2009, the Good News Club came to the public elementary school where journalist Katherine Stewart sent her children. The Club bills itself as an after-school Bible study, but Stewart soon discovered that its real mission is to convert children to fundamentalist Christianity. Astonished to discover that the Supreme Court had deemed this religious activity legal in public schools, Stewart began an investigative journey to dozens of cities across the nation to document the impact.
As Stewart makes chillingly clear, the rapidly expanding network of Good News Clubs represents just one of a range of initiatives intended to insert religious values into public schools. Although they often appear to be spontaneous, local events, they are in fact organized and funded at a national level. Taken together, they represent a new strategy of the Religious Right in its long-running aim to "take back America," undermining our public education system and secular democracy itself.
About the Author
Katherine Stewart was born in Boston, Massachusetts. She started her career in journalism working for investigative reporter Wayne Barrett at The Village Voice, and contributed to Newsweek International, the New York Observer, and Rolling Stone among others. She cowrote the book about the musical Rent and, after moving to Santa Barbara in 2005, published two novels about 21st century parenting. She is the author of The Good News Club (PublicAffairs, 2012), an investigative book about public education and religious fundamentalism in America. Most recently she has written for The New York Times, The Nation, The Atlantic, The Guardian.
Praise For The Good News Club: The Religious Right's Stealth Assault on America's Children…
"A fascinating exposé."—Minneapolis Star-Tribune

"Impressive in scope and painstakingly researched."—Kansas City Star

"Katherine Stewart's book about the fundamentalist assault on public education is lucid, alarming, and very important."—Michelle Goldberg, author of Kingdom Coming: The Rise of Christian Nationalism and The Means of Reproduction

"Katherine Stewart's riveting investigation takes us inside the world of the Child Evangelism Fellowship, a sprawling organization that aims not just to evangelize America's schoolchildren, but . . . to dismantle the separation of church and state."—Sarah Posner, senior editor, Religion Dispatches