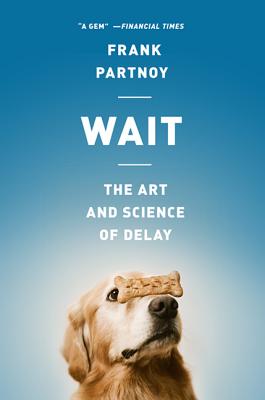 Wait (Paperback)
The Art and Science of Delay
PublicAffairs, 9781610392471, 304pp.
Publication Date: June 4, 2013
Other Editions of This Title:
Digital Audiobook (6/25/2012)
Paperback (7/25/2013)
Hardcover (6/26/2012)
Compact Disc (6/26/2012)
Pre-Recorded Audio Player (6/26/2012)
MP3 CD (6/26/2012)
Compact Disc (6/26/2012)
* Individual store prices may vary.
Description
What do these scenarios have in common: a professional tennis player returning a serve, a woman evaluating a first date across the table, a naval officer assessing a threat to his ship, and a comedian about to reveal a punch line?
In this counterintuitive and insightful work, author Frank Partnoy weaves together findings from hundreds of scientific studies and interviews with wide-ranging experts to craft a picture of effective decision-making that runs counter to our brutally fast-paced world. Even as technology exerts new pressures to speed up our lives, it turns out that the choices we make––unconsciously and consciously, in time frames varying from milliseconds to years––benefit profoundly from delay. As this winning and provocative book reveals, taking control of time and slowing down our responses yields better results in almost every arena of life … even when time seems to be of the essence.
The procrastinator in all of us will delight in Partnoy's accounts of celebrity "delay specialists," from Warren Buffett to Chris Evert to Steve Kroft, underscoring the myriad ways in which delaying our reactions to everyday choices––large and small––can improve the quality of our lives.
About the Author
Frank Partnoy is the author of F.I.A.S.C.O., Infectious Greed, and The Match King. Formerly an investment banker at Morgan Stanley and a practicing corporate lawyer, he is one of the world's leading experts on market regulation and is a frequent commentator for the Financial Times, the New York Times, NPR, and CBS's 60 Minutes. Partnoy is a graduate of Yale Law School and is the George E. Barrett Professor of Law and Finance and the founding director of the Center for Corporate and Securities Law at the University of San Diego.