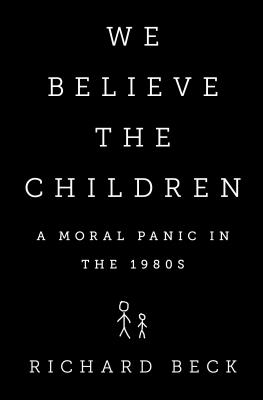 We Believe the Children (Hardcover)
A Moral Panic in the 1980s
PublicAffairs, 9781610392877, 352pp.
Publication Date: August 4, 2015
* Individual store prices may vary.
Description
A Wall Street Journal Best Book of 2015
A Boston Globe Best Book of 2015

A brilliant, disturbing portrait of the dawn of the culture wars, when America started to tear itself apart with doubts, wild allegations, and an unfounded fear for the safety of children.

During the 1980s in California, New Jersey, New York, Michigan, Massachusetts, Florida, Tennessee, Texas, Ohio, and elsewhere, day care workers were arrested, charged, tried, and convicted of committing horrible sexual crimes against the children they cared for. These crimes, social workers and prosecutors said, had gone undetected for years, and they consisted of a brutality and sadism that defied all imagining. The dangers of babysitting services and day care centers became a national news media fixation. Of the many hundreds of people who were investigated in connection with day care and ritual abuse cases around the country, some 190 were formally charged with crimes, leading to more than 80 convictions.

It would take years for people to realize what the defendants had said all along—that these prosecutions were the product of a decade-long outbreak of collective hysteria on par with the Salem witch trials. Social workers and detectives employed coercive interviewing techniques that led children to tell them what they wanted to hear. Local and national journalists fanned the flames by promoting the stories' salacious aspects, while aggressive prosecutors sought to make their careers by unearthing an unspeakable evil where parents feared it most.

Using extensive archival research and drawing on dozens of interviews conducted with the hysteria's major figures, n+1 editor Richard Beck shows how a group of legislators, doctors, lawyers, and parents—most working with the best of intentions—set the stage for a cultural disaster. The climate of fear that surrounded these cases influenced a whole series of arguments about women, children, and sex. It also drove a right-wing cultural resurgence that, in many respects, continues to this day.
About the Author
Richard Beck is an editor at n+1 magazine and lives in Brooklyn, NY.

Praise For We Believe the Children: A Moral Panic in the 1980s…
"Ambitious and meticulously researched… Beck, an editor of the avant-garde literary journal
n+1
, is an able historian and a clear writer. His thorough analysis of media reports, police records and court transcripts successfully brings this nightmarish cultural episode to life. The book is a devastating indictment of the earnest but irresponsible detectives and psychologists who effectively projected their own fantasies into young children's imaginations over the course of extended interrogations, and of overzealous prosecutors—including such high-profile figures as Janet Reno and Martha Coakley—who put innocent people in prison."
—American Interest
"Remarkable… Painstakingly researched."
—The Sunday Times [UK]
"A very lucid piece of historical analysis that shows how easily the wildest gossip and accusations are believed by the legal system and the public."
—Connecticut News
"
N+1
editor Beck surveys the wild allegations, surreal trials, and sensational atmosphere of a child abuse panic that gripped the United States during the 1980s, while lucidly analyzing the intellectual and political climate that made it possible… An absorbing dissection of a panic whose tremors still affect us today."
—Publishers Weekly
"[Thirty] years ago America was described as experiencing an 'epidemic' of sexual abuse in day care. Richard Beck, an editor at
N+1
, does a herculean job of investigating why this happened in his absorbing book
We Believe The Children
."
—Washington Post
"In this sharp, sensitive debut [Beck] deftly examines all the forces that came together in this strange moment in our history."
—Boston Globe
"Beck argues, convincingly, that the sexual revolution of the '60s and '70s provoked a conservative backlash in the '80s, fueling parental paranoia. The social and political conditions at the time set the stage for the most destructive moral panic since the Salem witch trials."
—The Daily Beast
"Passionately argued…Beck's narrative is compellingly drawn, and his research is exhaustive; he seems to have exhumed every document pertaining to the McMartin case, as well as several similar episodes elsewhere."
—Harper's
"Detailed and provocative….
We Believe the Children
reshaped my understanding of the relationship between feminism, cultural politics, and mothering. It takes a chapter of contemporary history that could be easily dismissed as an insignificant and bizarre aberration, and shows it to be anything but."
—Boston Review
"Richard Beck's fascinating book is written with an incredible lucidity of thought and prose. His witnessing seems at an ideal distance, and his voice is an appealing synthesis of the questing mind, and the mind that already knows how frighteningly and unfortunately easy it is for us to deceive others and ourselves."
—Sheila Heti, author of How Should A Person Be?: A Novel from Life
"We've had other books on the culture of fear and panic that seized this country in the 1980s and 1990s, but none like this. Through diligent reportage, an informed sense of history, and plainspoken prose, Richard Beck narrates a terrifying story of how the US reacted against the liberation of women and the transformation of the family after the Sixties: by conjuring an army of pedophiles, daycare workers, and Satanic abusers, all bent on doing harm to 'our kids.' If there is any saving grace to this story, it is the calm and patience of its teller, whose dedication to reason, fact, and truth serves as a beacon across a fog of unreason and ill will."
—Corey Robin, author of The Reactionary Mind: Conservatism from Edmund Burke to Sarah Palin
"Compelling, eye-opening…. In Beck's well-researched, fascinating work, he begins with the McMartin trial, the longest trial in US history and one which was launched on the fevered imaginations of a divorced mother with severe emotional issues. Many remember the name McMartin and Beck covers it with scrupulous care."
—BookFilter
"Richard Beck's
We Believe the Children
is a superb reconstruction of a dark chapter in our recent history, and an engaging introduction to complicated mysteries of the psyche. It must be read."
—Mark Greif, author of The Age of the Crisis of Man: Thought and Fiction in America, 1933-1973
"
We Believe the Children
is a brilliant, steely portrait of a country in the midst of a counter-revolution. Not only a dramatic narrative of the child abuse scandals that dominated headlines in the 1980s, it's also an incredibly smart history of the strange alliances that fueled modern 'family values' conservatism. There is something to surprise and startle on every page."
—Nikil Saval, author of Cubed: A Secret History of the Workplace
A Wall Street Journal Best Book of 2015
A Boston Globe Best Book of 2015

"Intellectually nimble… [Beck's] argument should prove far more enduring than all the lies and self-deceptions, so credulously believed in the 1980s, that this book does a devil of a job correcting." —New York Times

"Understanding a moral panic requires perspective—distance from the emotional heat of anger and anxiety. Sometimes it is precisely those who didn't live through it who are best suited to providing that perspective. In We Believe the Children: A Moral Panic in the 1980s, Richard Beck accomplishes this difficult feat, and he does so calmly, detail by meticulous detail…. A thorough account... His important book gives readers who don't know the story—or who think it is over, so 20th century—an understanding of its lingering, pernicious effects on our lives…. Mr. Beck's book is valuable because it is timely and comprehensive. He not only tells the story of a moral panic with a fresh eye but provides context, identifying the forces that preceded it as well as those that fed it and have kept it going today." —Wall Street Journal