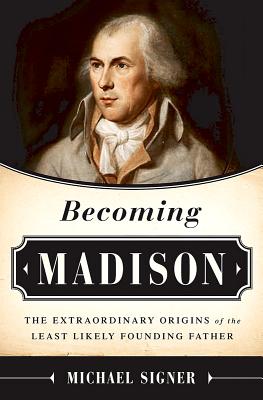 Becoming Madison (Hardcover)
The Extraordinary Origins of the Least Likely Founding Father
PublicAffairs, 9781610392952, 384pp.
Publication Date: March 10, 2015
Other Editions of This Title:
Digital Audiobook (4/29/2015)
Compact Disc (4/30/2015)
MP3 CD (4/30/2015)
* Individual store prices may vary.
Description
In a time when America is desperately searching for leadership comes this inspiring story of James Madison's coming of age, providing incisive and original insight into the Founding Father who did the most but is known the least.
Michael Signer takes a fresh look at the life of our fourth president. His focus is on Madison before he turned thirty-six, the years in which he did his most enduring work: battling with Patrick Henry—the most charismatic politician in revolutionary America, whose political philosophy and ruthless tactics eerily foreshadowed those of today's Tea Party—over religious freedom; introducing his framework for a strong central government; becoming the intellectual godfather of the Constitution; and providing a crucial role at Virginia's convention to ratify the Constitution in 1788, when the nation's future hung in the balance.
Signer's young James Madison is a role model for the leaders so badly needed today: a man who overcame daunting personal issues (including crippling anxiety attacks) to battle an entrenched and vicious status quo. Michael Signer's brilliant analysis of "Madison's Method," the means by which Madison systematically destroyed dangerous ideas and left in their stead an enduring and positive vision for the United States, is wholly original and uniquely relevant today.

About the Author
Michael Signer is an author, advocate, political theorist, and attorney. He holds a PhD in political science from U.C., Berkeley, where he was a National Science Foundation Graduate Research Fellow; a JD from the University of Virginia School of Law; and a BA in politics, magna cum laude, from Princeton University. He has taught political theory, leadership, and governance at the University of Virginia, Virginia Tech, and the University of California. He was counsel to Governor Mark Warner in Richmond, senior policy advisor at the Center for American Progress, and a candidate for lieutenant governor of Virginia in 2009. Dr. Signer is the author of Demagogue: The Fight to Save Democracy from Its Worst Enemies (2009). His writing has appeared in The Washington Post, The New Republic, and USA Today, and he reviews books for the Daily Beast. He has appeared on MSNBC, Fox News, the BBC, and NPR. He lives with his wife and twin boys in Virginia.
Praise For Becoming Madison: The Extraordinary Origins of the Least Likely Founding Father…
"An important study of the intellectual and psychological development of a young Madison who believed that leaders should forsake self-interest in promoting the common good."—
Library Journal
"James Madison would be called a "flip-flopper" in today's political climate. Thank God he changed his mind and concluded that adding a Bill of Rights to the Constitution was not just good politics but necessary policy. This is just one of the wonderful aspects of James Madison's life that Michael Signer captures so well in this important biography. Our nation owes huge debts to Madison, and today's civic leaders owe a huge debt to Signer for reminding us why."—
US Senator Tim Kaine
"
Becoming Madison
is superb. As a native Virginian who grew up going to steeplechase races at Montpelier, the history is lively and engaging. But Michael Signer's greatest contribution is to turn a biography of Madison into a manual on leadership that is as relevant and valuable today as it was 200 years ago."—
Anne-Marie Slaughter, Director of Policy Planning, U.S. State Department, 2009-2011 and President and CEO, New America Foundation
"Sound and revealing." —Wall Street Journal

"Intellectual history at its finest…an essential biography of an essential Founder."—Richmond Times-Dispatch

"In this engaging new study, Signer wrestles with the early life and career of James Madison and attempts to explain why Madison remains unheralded among the founding generation. ... According to Signer, however, Madison's humble status in American memory is not a function of his failures but rather a product of his successes...Highly recommended."—CHOICE

"A bull's-eye."—Richard Brookhiser, The Daily Beast

"[A]s lively as a thrilling mystery, as enlightening as a full college semester and as pleasing as a frosty bowl of Southern punch."—Lincoln Journal-Star

"Signer, a lawyer-scholar who once ran for Virginia lieutenant governor, is a…stylist, and in Becoming Madison he focuses on Madison's education and statesmanship."—Claremont Review of Books

"Highly readable and often insightful...A perfect introduction to a deeply private and immensely important man."—Kirkus Reviews

"This engagingly written, carefully researched book is the fullest account we have of the development of Madison's thought and statesmanship through the promotion and drafting of the Constitution to the greatest triumph of his life, the ratification of the Virginia Convention of 1788. Signer shows how there, in face-to-face debate with Patrick Henry, Madison proved what John Marshall termed Madison's unmatched ability to convince could overcome Henry's supreme power to persuade. This capacity characterized Madison's style and career in a way that allowed him to become the master philosopher and practitioner of Lincoln's Union 'conceived in liberty and dedicated to the proposition that all ... are created equal.' Signer also shows brilliantly how Madison's studies at Princeton under John Witherspoon began an influential and revealing partnership in public spirited citizenship for good government. Altogether the book brings us closer to understanding how Madison became able to be, all things considered, the father of the Constitution." —Ralph Ketcham, Maxwell Professor Emeritus of Citizenship and Public Affairs, Syracuse University, author of James Madison: A Biography

"For centuries James Madison has been overshadowed by the more striking and charismatic members of America's founding generation. And Madison's youth has been even less well known than his maturity. Michael Signer goes far toward filling this historical gap with an engaging, insightful account of how the unassuming young Madison became the hero of the Constitution." —H. W. Brands, University of Texas at Austin, author of Andrew Jackson, His Life and Times and The Man Who Saved the Union: Ulysses Grant in War and Peace