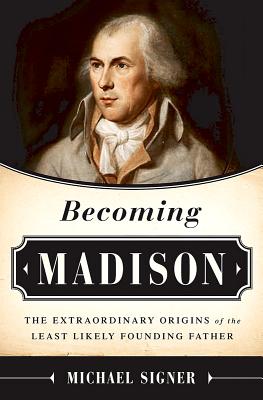 Becoming Madison (Hardcover)
The Extraordinary Origins of the Least Likely Founding Father
PublicAffairs, 9781610392952, 384pp.
Publication Date: March 1, 2015
* Individual store prices may vary.
Description
In a time when America is desperately searching for leadership comes this inspiring story of James Madison's coming of age, providing incisive and original insight into the Founding Father who did the most but is known the least.
Michael Signer takes a fresh look at the life of our fourth president. His focus is on Madison before he turned thirty-six, the years in which he did his most enduring work: battling with Patrick Henry--the most charismatic politician in revolutionary America, whose political philosophy and ruthless tactics eerily foreshadowed those of today's Tea Party--over religious freedom; introducing his framework for a strong central government; becoming the intellectual godfather of the Constitution; and providing a crucial role at Virginia's convention to ratify the Constitution in 1788, when the nation's future hung in the balance.
Signer's young James Madison is a role model for the leaders so badly needed today: a man who overcame daunting personal issues (including crippling anxiety attacks) to battle an entrenched and vicious status quo. Michael Signer's brilliant analysis of "Madison's Method," the means by which Madison systematically destroyed dangerous ideas and left in their stead an enduring and positive vision for the United States, is wholly original and uniquely relevant today.

About the Author
Michael Signer is an author, advocate, political theorist, and attorney. He holds a PhD in political science from U.C., Berkeley, where he was a National Science Foundation Graduate Research Fellow; a JD from the University of Virginia School of Law; and a BA in politics, magna cum laude, from Princeton University. He has taught political theory, leadership, and governance at the University of Virginia, Virginia Tech, and the University of California. He was counsel to Governor Mark Warner in Richmond, senior policy advisor at the Center for American Progress, and a candidate for lieutenant governor of Virginia in 2009. Dr. Signer is the author of Demagogue: The Fight to Save Democracy from Its Worst Enemies (2009). His writing has appeared in The Washington Post, The New Republic, and USA Today, and he reviews books for the Daily Beast. He has appeared on MSNBC, Fox News, the BBC, and NPR. He lives with his wife and twin boys in Virginia.