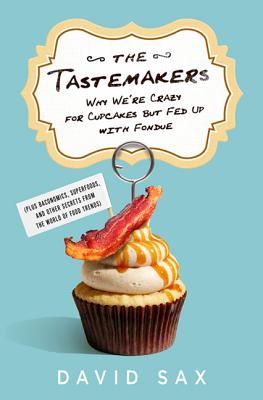 The Tastemakers
Why We're Crazy for Cupcakes But Fed Up with Fondue
Hardcover

* Individual store prices may vary.
Other Editions of This Title:
Paperback (5/26/2015)
MP3 CD (11/3/2015)
Description
Tastemaker, n. Anyone with the power to make you eat quinoa. Kale. Spicy sriracha sauce. Honeycrisp apples. Cupcakes. These days, it seems we are constantly discovering a new food that will make us healthier, happier, or even somehow cooler. Chia seeds, after a brief life as a novelty houseplant and I Love the '80s punchline, are suddenly a superfood. Not long ago, that same distinction was held by pomegranate seeds, acai berries, and the fermented drink known as kombucha. So what happened? Did these foods suddenly cease to be healthy a few years ago? And by the way, what exactly is a "superfood" again? In this eye-opening, witty work of reportage, David Sax uncovers the world of food trends: Where they come from, how they grow, and where they end up. Traveling from the South Carolina rice plot of America's premier grain guru to Chicago's gluttonous Baconfest, Sax reveals a world of influence, money, and activism that helps decide what goes on your plate. On his journey, he meets entrepreneurs, chefs, and even data analysts who have made food trends a mission and a business. The Tastemakers is full of entertaining stories and surprising truths about what we eat, how we eat it, and why.
PublicAffairs, 9781610393157, 318pp.
Publication Date: May 27, 2014
About the Author
David Sax is a writer specializing in business and food. His writing appears regularly in the New York Times, Bloomberg Businessweek, Saveur, the Grid Toronto, , and other publications. His first book, Save the Deli: In Search of Perfect Pastrami, Crusty Rye, and the Heart of Jewish Delicatessen, was a Los Angeles Times bestseller. Sax's work has also won a James Beard Award for Writing and Literature. He lives in Toronto.
or
Not Currently Available for Direct Purchase