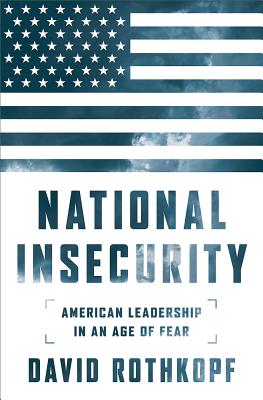 National Insecurity (Hardcover)
American Leadership in an Age of Fear
PublicAffairs, 9781610393409, 496pp.
Publication Date: October 28, 2014
Other Editions of This Title:
Paperback (4/26/2016)
* Individual store prices may vary.
Description
In the wake of 9/11, America and its people have experienced a sense of vulnerability unprecedented in the nation's recent history. Buffeted by challenges from the wars in Iraq and Afghanistan to the financial crisis, from Washington dysfunction to the rise of China and the dawn of the era of cyber warfare, two very different presidents and their advisors have struggled to cope with a relentless array of new threats.

You may think you know the story. But in National Insecurity, David Rothkopf offers an entirely new perspective into the hidden struggles, the surprising triumphs, and the shocking failures of those charged with leading the United States through one of the most difficult periods in its history. Thanks to his extraordinary access, Rothkopf provides fresh insights drawing on more than one hundred exclusive interviews with the key players who shaped this era.

At its core, National Insecurity is the gripping story of a superpower in crisis, seeking to adapt to a rapidly changing world, sometimes showing inspiring resilience—but often undone by the human flaws of those at the top, the mismanagement of its own system, the temptation to concentrate too much power within the hands of too few in the White House itself, and an unwillingness to draw the right lessons from the recent past. Nonetheless, within that story are unmistakable clues to a way forward that can help restore American leadership.
About the Author
David Rothkopf is the CEO and editor of the FP Group, which is the publisher of Foreign Policy Magazine, ForeignPolicy.com, and presenter of FP Events. He is also president and CEO of Garten Rothkopf, an international advisory firm. He is a visiting scholar at the Carnegie Endowment for International Peace, where he chairs the Bernard L. Schwartz Program in Competitiveness and Growth Policies.

He is the author of Power, Inc.: The Epic Rivalry Between Big Business and Government and the Reckoning that Lies Ahead; Superclass: The Global Power Elite and the World They're Making; and Running the World: The Inside Story of the National Security Council and the Architects of American Power.

Praise For National Insecurity: American Leadership in an Age of Fear…
"An inside look at how foreign policy was made under the two presidents since 9/11...the real star of the book, the ubershaper of everything, is this "age of fear" that so warped our institutions and policy priorities. Will it ever go away or will bin Laden be forever the gift that keeps on giving?" —Thomas L. Friedman, The New York Times

"An important book." –Fareed Zakaria, CNN (Fareed Zakaria GPS Book of the Week selection)

"Many books have been written about America's response to the Sept. 11, 2001, attacks; few are as insightful, as compelling or as useful as National Insecurity." –Washington Post

"Rothkopf, the preeminent historian and analyst of the crucially important and usually misunderstood National Security Council (NSC), argues that, 'It is not strategy to simply undo the mistakes of the recent past.'" —Jeffrey Goldberg, The Atlantic
or
Not Currently Available for Direct Purchase