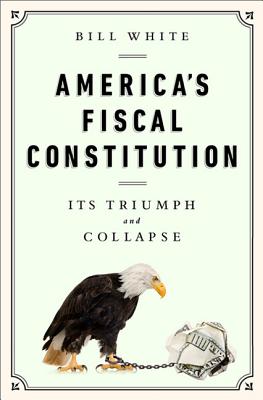 America's Fiscal Constitution
Its Triumph and Collapse
Hardcover

* Individual store prices may vary.
Description
What would Washington, Jefferson, Madison, Lincoln, the Roosevelts, Truman, and Eisenhower have done about today's federal debt crisis?

America's Fiscal Constitution tells the remarkable story of fiscal heroes who imposed clear limits on the use of federal debt, limits that for two centuries were part of an unwritten constitution. Those national leaders borrowed only for extraordinary purposes and relied on well-defined budget practices to balance federal spending and revenues.

That traditional fiscal constitution collapsed in 2001. Afterward -- for the first time in history -- federal elected officials cut taxes during war, funded permanent new programs entirely with debt, grew dependent on foreign creditors, and claimed that the economy could not thrive without routine federal borrowing.

For most of the nation's history, conservatives fought to restrain the growth of government by insisting that new programs be paid for with taxation, while progressives sought to preserve opportunities for people on the way up by balancing budgets. Virtually all mainstream politicians recognized that excessive debt could jeopardize private investment and national independence.

With original scholarship and the benefit of experience in finance and public service, Bill White dispels common budget myths and distills practical lessons from the nation's five previous spikes in debt. America's Fiscal Constitution offers an objective and hopeful guide for people trying to make sense of the nation's current, most severe, debt crisis and its impact on their lives and our future.
Praise For America's Fiscal Constitution: Its Triumph and Collapse…
"…Lucid and pioneering…a compelling and illuminating formula for both economic growth and fiscal restraint."–James MacGregor Burns, Pulitzer Prize-winning historian and Professor Emeritus at Williams College

"There are few Americans I trust more than Bill White. With history as his guide, White trailblazes through the Washington, D.C. bureaucratic jungle, revealing Big Truths that are bolstered with Hard Facts."–Douglas Brinkley, Professor at Rice University and CBS News Historian

"A thought-provoking and well-told history of our nation's traditional financial principles. Every citizen can benefit from this book's practical insights."–Ross Perot

"Bill White's thorough understanding of both finance and government allows him to trace the history of America's path to the edge of fiscal irresponsibility."–Erskine Bowles,Co-Chairman of National Commission on Fiscal Responsibility

"Powerful, penetrating and persuasive…a tour de force of our fiscal history. A timely and important contribution to the raging debate on our fiscal future."–Kent Conrad (D), former Chairman of the US Senate Budget Committee

"However, rather than merely argue in the abstract, the author undergirds his case by recommending specific steps to alleviate the crisis, including, among others, establishing solely tax-financed budgets and putting bonds up for national election. Reading between the lines, White is recommending much more—and therein lies controversy, especially when it comes to military spending. A book that deserves much attention."– Kirkus Reviews

"With its powerful blend of national history and government analysis, America's Fiscal Constitution is a pick for any political studies collection." —Midwest Book Review

"Our nation cannot be strong militarily, diplomatically or politically unless it is strong economically, and we cannot remain strong economically unless we deal with our massive debt burden…A must read for those who believe that we should get our economic house in order."–James A. Baker III, former Secretary of the Treasury and Secretary of State

"In order to understand our fiscal plight, it's crucial to appreciate how carefully America has dealt with debt in the past. Bill White makes that tale fascinating."–Walter Isaacson, best-selling author and former CEO of CNN and managing editor of Time magazine

"Will be music to the ears of budget hawks everywhere…This is an important book."–New York Times Book Review

"Something remarkable…a fascinating book about our economic history …America's Fiscal Constitution tells the story of how America has dealt with its debt since its founding, and in doing so provides a compelling roadmap to a more responsible fiscal future."–President Bill Clinton

"Perhaps the best chance to avoid fiscal Armageddon will come from educating the public in the pre-Keynesian virtues of balancing the nation's books. To this end, 'America's Fiscal Constitution' serves a noble purpose." –the Wall Street Journal

"An unusual and important book…[White] is no starry-eyed optimist and recognizes the serious political obstacles to his program. But he argues that because the reforms he supports aim to revitalize a fiscal tradition that has deep roots in American culture and history, the public can be brought around to support the sometimes painful choices they would require."–Foreign Affairs
PublicAffairs, 9781610393430, 576pp.
Publication Date: April 1, 2014
About the Author
Bill White is senior advisor at Lazard, a firm advising corporate leaders and governments worldwide. He served as Houston's mayor and was twice re-elected with an average vote of 88 percent. He also served as the deputy secretary of energy of the United States. He received the prestigious John F. Kennedy Profiles in Courage Award for his leadership in response to Hurricane Katrina and the Governing Official of the Year Award from Governing magazine. He has worked as the CEO of a successful business and as a member of numerous corporate boards. In 2010 he received more votes for governor of Texas than any Democratic candidate in the state's history.