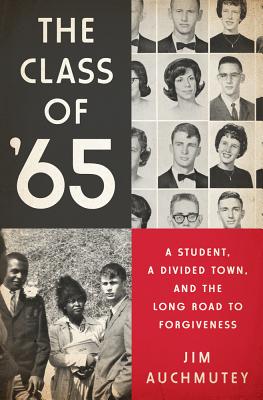 The Class of '65 (Hardcover)
A Student, a Divided Town, and the Long Road to Forgiveness
PublicAffairs, 9781610393546, 272pp.
Publication Date: March 31, 2015
Other Editions of This Title:
Compact Disc (4/14/2015)
MP3 CD (4/14/2015)
Pre-Recorded Audio Player (6/2/2015)
* Individual store prices may vary.
Description
In the midst of racial strife, one young man showed courage and empathy. It took forty years for the others to join him…

Being a student at Americus High School was the worst experience of Greg Wittkamper's life. Greg came from a nearby Christian commune, Koinonia, whose members devoutly and publicly supported racial equality. When he refused to insult and attack his school's first black students in 1964, Greg was mistreated as badly as they were: harassed and bullied and beaten. In the summer after his senior year, as racial strife in Americus—and the nation—reached its peak, Greg left Georgia.

Forty-one years later, a dozen former classmates wrote letters to Greg, asking his forgiveness and inviting him to return for a class reunion. Their words opened a vein of painful memory and unresolved emotion, and set him on a journey that would prove healing and saddening.

The Class of '65 is more than a heartbreaking story from the segregated South. It is also about four of Greg's classmates—David Morgan, Joseph Logan, Deanie Dudley, and Celia Harvey—who came to reconsider the attitudes they grew up with. How did they change? Why, half a lifetime later, did reaching out to the most despised boy in school matter to them? This noble book reminds us that while ordinary people may acquiesce to oppression, we all have the capacity to alter our outlook and redeem ourselves.
About the Author
Jim Auchmutey spent twenty-nine years at the Atlanta Journal-Constitution as a reporter and editor, twice winning the Cox Newspaper chain's writer of the year award. He first visited Koinonia Farm in 1980 and has written extensively about the commune, the South, race relations, religion, and history. He lives in Georgia.
Praise For The Class of '65: A Student, a Divided Town, and the Long Road to Forgiveness…
"Jim Auchmutey set out to write a book about one man's journey to forgiveness, but
The Class of '65
is truly the story of how one generation discovered its soul… [Auchmutey] takes readers to that reunion and beautifully describes the conflictive feelings that were present."—
The Columbus (GA) Ledger-Dispatch
"A spellbinding, deeply sensitive portrayal of the conflicted heart of the South. Through the stories of children who have now become middle age, we see racism crashing into conscience, cowardice transforming into courage."—
Hank Klibanoff, co-author of the Pulitzer Prize-winning The Race Beat
"
The Class of '65
is a rich and revealing portrait of one place and its people at the height of the Civil Rights Movement, a moment when millions of ordinary white Americans confronted the greatest moral test of a generation, and failed terribly. But it is also a story of redemption, over long decades, for a special few whose willingness to reconsider the past, and their own role in its errors and terrors, could be a model for Americans in the troubled times we face today."—
Douglas A. Blackmon, author of the Pulitzer Prize-winning Slavery by Another Name
"It's a great story, ably reported by former Atlanta Journal-Constitution journalist Auchmutey, and told with humor and grace… Heroism is like beauty — in the eye of the beholder. We rarely behold bravery as singular as Wittkamper's. Class of '65 encourages us to see the courage in an act as simple as asking forgiveness in a long-overdue letter."—The Washington Post

"Author Jim Auchmutey, a journalist who worked for nearly three decades at The Atlanta Journal-Constitution, expertly tells the story of that student, the Americus community, the larger civil rights struggle and an unexpected reconciliation decades later… The reconciliation that follows in Auchmutey's compelling narrative is at times tentative and halting, but also filled with emotional power. And it appears to be still in progress. At the time of the reunion, it included only Wittkamper and his white classmates. The closing section of Auchmutey's book suggests another chapter yet to be written, as blacks and whites together make peace with the past."—The Associated Press

"A well-researched, popular history with a powerful emotional coda."—The Atlanta Journal Constitution